Close
About Cylinder Seals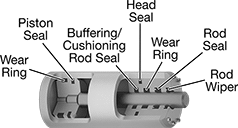 Rod wipers scrape dirt, dust, and moisture from the rod, preventing contamination inside your cylinder.
Rod seals maintain the pressure inside cylinders and prevent fluid from leaking out.
Wear rings guide the rod and piston to prevent uneven wear and optimize seal performance.
Head seals are a more reliable alternative to the standard O-ring/backup ring combination—they resist twisting and remain stable even in applications with fluctuating pressure.
Buffering seals protect hydraulic cylinders from pressure spikes and shock in high-pressure hydraulic applications.
Cushioning seals minimize wear and noise in air-powered cylinders by preventing the piston from slamming against the cylinder body.
Piston seals make a seal between their outside edge and the cylinder bore to prevent internal leaks.
Wear Rings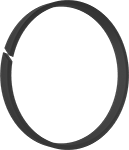 Profile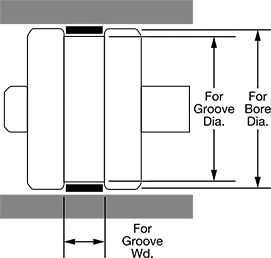 Piston Installation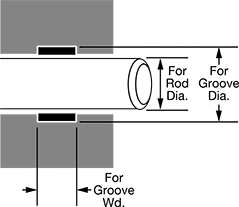 Made from glass-filled nylon for excellent wear resistance and strength.
Gap size is the maximum distance between the split ends of the ring while it is in use. Rings are closed when not in use.
For technical drawings and 3-D models, click on a part number.
For
Rod


Dia.

For
Groove


Dia.

For
Bore


Dia.

For
Groove


Dia.

Gap
Size

Max.




Speed,




ft./sec.

Temp.




Range,




°F

Hardness
Color
Each

Glass-Filled

Nylon Plastic

1/2

"
0.750"

3/4

"
0.500"
0.093"
3
-40° to 275°
Rockwell R120 (Extra Hard)
Gray
0000000
000000

3/4

"
1.000"
1"
0.750"
0.093"
3
-40° to 275°
Rockwell R120 (Extra Hard)
Gray
0000000
00000
1"
1.250"
1

1/4

"
1.000"
0.093"
3
-40° to 275°
Rockwell R120 (Extra Hard)
Gray
0000000
00000
1

1/4

"
1.500"
1

1/2

"
1.250"
0.093"
3
-40° to 275°
Rockwell R120 (Extra Hard)
Gray
0000000
00000
1

3/8

"
1.625"
1

5/8

"
1.375"
0.093"
3
-40° to 275°
Rockwell R120 (Extra Hard)
Gray
0000000
00000
1

1/2

"
1.750"
1

3/4

"
1.500"
0.093"
3
-40° to 275°
Rockwell R120 (Extra Hard)
Gray
0000000
00000
1

5/8

"
1.875"
1

7/8

"
1.625"
0.093"
3
-40° to 275°
Rockwell R120 (Extra Hard)
Gray
0000000
00000
1

3/4

"
2.000"
2"
1.750"
0.093"
3
-40° to 275°
Rockwell R120 (Extra Hard)
Gray
0000000
00000
1

7/8

"
2.125"
2

1/8

"
1.875"
0.093"
3
-40° to 275°
Rockwell R120 (Extra Hard)
Gray
0000000
00000
2"
2.250"
2

1/4

"
2.000"
0.093"
3
-40° to 275°
Rockwell R120 (Extra Hard)
Gray
0000000
00000
2

1/4

"
2.500"
2

1/2

"
2.250"
0.093"
3
-40° to 275°
Rockwell R120 (Extra Hard)
Gray
0000000
00000
2

1/2

"
2.750"
2

3/4

"
2.500"
0.093"
3
-40° to 275°
Rockwell R120 (Extra Hard)
Gray
0000000
00000
2

3/4

"
3.000"
3"
2.750"
0.093"
3
-40° to 275°
Rockwell R120 (Extra Hard)
Gray
0000000
00000
3"
3.250"
3

1/4

"
3.000"
0.093"
3
-40° to 275°
Rockwell R120 (Extra Hard)
Gray
0000000
00000
3

1/4

"
3.500"
3

1/2

"
3.250"
0.093"
3
-40° to 275°
Rockwell R120 (Extra Hard)
Gray
0000000
00000
3

3/4

"
4.000"
4"
3.750"
0.093"
3
-40° to 275°
Rockwell R120 (Extra Hard)
Gray
0000000
00000
1"
1.250"
1

1/4

"
1.000"
0.093"
3
-40° to 275°
Rockwell R120 (Extra Hard)
Gray
0000000
00000
1

1/4

"
1.500"
1

1/2

"
1.250"
0.093"
3
-40° to 275°
Rockwell R120 (Extra Hard)
Gray
0000000
00000
1

1/2

"
1.750"
1

3/4

"
1.500"
0.093"
3
-40° to 275°
Rockwell R120 (Extra Hard)
Gray
0000000
00000
1

3/4

"
2.000"
2"
1.750"
0.093"
3
-40° to 275°
Rockwell R120 (Extra Hard)
Gray
0000000
00000
2"
2.250"
2

1/4

"
2.000"
0.093"
3
-40° to 275°
Rockwell R120 (Extra Hard)
Gray
0000000
00000
2

1/4

"
2.500"
2

1/2

"
2.250"
0.093"
3
-40° to 275°
Rockwell R120 (Extra Hard)
Gray
0000000
00000
2

3/4

"
3.000"
3"
2.750"
0.093"
3
-40° to 275°
Rockwell R120 (Extra Hard)
Gray
0000000
00000
3

1/4

"
3.500"
3

1/2

"
3.250"
0.093"
3
-40° to 275°
Rockwell R120 (Extra Hard)
Gray
0000000
00000
3

3/4

"
4.000"
4"
3.750"
0.093"
3
-40° to 275°
Rockwell R120 (Extra Hard)
Gray
0000000
00000