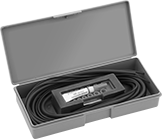 This kits include everything you need to make your own O-rings, including cord stock, a splicing jig, adhesive, and a razor blade.
Buna-N cord stock resists oil, grease, and hydraulic fluid.
EPDM cord stock resists water, steam, and isopropyl alcohol.
Viton® fluoroelastomer cord stock resists boric acid, fuels, and transmission fluid.
Relacement jig splices cord stock from 0.103" to 0.375" Wd.
Material

Wd.

Hardness
Temperature


Range,

°F

Color

Lg.,




ft.

Each
Buna-N Rubber
0.103", 0.139", 0.210", 0.275"
Durometer 70A (Medium)
-40° to 212°
Black
7
0000000
000000
Buna-N Rubber
1.500mm, 0.070", 2.000mm, 2.500mm, 0.103", 3.000mm, 3.500mm, 0.139", 4.000mm, 5.000mm, 0.210", 5.700mm, 0.275", 8.400mm
Durometer 70A (Medium)
-40° to 212°
Black
3
0000000
00000
Buna-N Rubber
1.500mm, 2.000mm, 2.500mm, 3.000mm, 3.500mm, 4.000mm, 5.000mm, 5.700mm, 8.400mm
Durometer 70A (Medium)
-40° to 212°
Black
3
000000
00000
EPDM Rubber
0.070", 0.103", 0.139", 0.210", 0.275"
Durometer 70A (Medium)
-65° to 300°
Black
7
00000000
00000
Viton® Fluoroelastomer Rubber
0.103", 0.139", 0.210", 0.275"
Durometer 75A (Medium)
5° to 400°
Black
7
0000000
000000
| | | | |
| --- | --- | --- | --- |
| 4" Lg. × 5/8" Wd. Replacement Jig for 0.103" to 0.375" Wd. Cord Stock | 000000 | Each | 00000 |