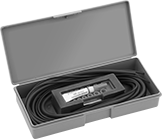 These kits include everything you need to make your own O-rings, including cord stock, a splicing jig, adhesive, and a razor blade.
Buna-N cord stock resists oil and grease.
EPDM cord stock resists water, steam, and isopropyl alcohol.
Fluoroelastomer cord stock resists boric acid, fuels, and transmission fluid.
Relacement jigs splice cord stock from 0.103" to 0.375" Wd.
Material

Wd.

Hardness
Temperature


Range,

°F

Color

Lg.,




ft.

Each
Buna-N Rubber
0.103", 0.139", 0.21", 0.275"
Durometer 70A (Medium)
-40° to 212°
Black
7
0000000
000000
Buna-N Rubber
1.5mm, 0.07", 2mm, 2.5mm, 0.103", 3mm, 3.5mm, 0.139", 4mm, 5mm, 0.21", 5.7mm, 0.275", 8.4mm
Durometer 70A (Medium)
-40° to 212°
Black
3
0000000
00000
Buna-N Rubber
1.5mm, 2mm, 2.5mm, 3mm, 3.5mm, 4mm, 5mm, 5.7mm, 8.4mm
Durometer 70A (Medium)
-40° to 212°
Black
3
000000
00000
EPDM Rubber
0.07", 0.103", 0.139", 0.21", 0.275"
Durometer 70A (Medium)
-65° to 300°
Black
7
00000000
00000
Fluoroelastomer Rubber
0.103", 0.139", 0.21", 0.275"
Durometer 75A (Medium)
5° to 400°
Black
7
0000000
00000
| | | | |
| --- | --- | --- | --- |
| 4" Lg. × 5/8" Wd. Replacement Jig for 0.103" to 0.375" Wd. Cord Stock | 000000 | Each | 00000 |