About Grease Gun Components
Battery-Operated

Drum Pumps with Nozzle for Oil
Quickly and cleanly transfer oil with no need for an electrical connection, air connection, or manual pumping. These drum pumps come with everything they need to operate.
Add extra stem assemblies to move a single pump head across multiple containers.
Use additional pump heads to transfer oil to multiple locations at once. Pump heads fit all stem assemblies.
To control the exact amount of oil you move, connect a meter.
Add batteries to minimize downtime—swap in a second battery while another charges.
Battery-Powered

Pistol-Grip

Grease Guns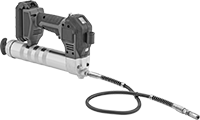 More portable than air-powered options, these guns operate on a rechargeable battery. They have a pistol grip that allows for one-hand operation, so they're better for lubricating hard-to-reach spots than lever-grip guns. Pull the trigger using small strokes to deliver small amounts of grease; hold the trigger for a continuous flow. All guns have a spring guard on the nozzle to prevent kinking.
12V gun requires a filler nipple (sold separately) to load grease using a bulk filler pump.
Replacement
Battery
Chargers

Cap.,




fl.




oz.

High
Pressure
Low
Pressure
For NLGI
Viscosity
Grade

Max.


Grease Outlet


Pressure,

psi
Nozzle


Lg.

Thread
Type

Pipe/Thread


Size
Gender
Batteries
Included
Loading
Method
Each
Each
Each

For Standard Grease Fittings

12V Battery

14

1/2

2.6
__
00, 0, 1, 2
8,000
30"
NPTF
UNEF

1/8




7/16

"-28
Male
Yes
Bulk Filler Pump, Cartridge
0000000
0000000
0000000
000000
00000000
000000
14
5.6
__
1, 2
10,000
36"
NPTF
UNF

1/8




7/16

"-20
Male
Yes
Cartridge, Suction
0000000
000000
0000000
00000
00000000
00000

20V Battery

16
6
4
1, 2
10,000
36"
NPTF
UNF

1/8




7/16

"-20
Male
Male
Yes
Cartridge
0000000
000000
0000000
000000
0000000
00000
Battery-Powered

Grease-Dispensing

Pumps
Use the keypad to select from six dispensing durations: 15 days, 1 month, 2 months, 3 months, 6 months, and 12 months.
Battery and grease packs (sold separately) must be installed and replaced at the same time for proper operation.
Connect a manifold (sold separately) to lubricate multiple points. Manifolds with mounting kit include connectors, adapters, tubing, and mounting hardware—all the components required to set up lubrication to multiple points.