Food Industry Gear and Chain Oil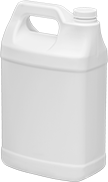 This oil withstands the heavy loads found in gears and gear-drive systems. Use it in food-processing and preparation areas. It's NSF registered H1 for use in areas where there is the possibility of incidental food contact.
Viscosity is the thickness of an oil. The higher the grade, the thicker the oil, and the less it flows.
Mineral oil is derived from petroleum and is more economical than synthetic oil.
Each
ISO
AGMA
SAE
SSU

Size,




gal.

Type

Temp.




Range,

°F

Color
With
Detergent
Specifications Met
Each

Mineral Base Oil

1000
8A
250
5235 @ 100° F
1
Jug
20° to 150°
Clear
No
NSF Registered H1

0000000
000000
Package
ISO
AGMA
SAE
SSU

Size,




gal.

Type

Temp.




Range,

°F

Color
With
Detergent
Specifications
Met

Pkg.




Qty.

Pkg.

Mineral Base Oil

1000
8A
250
5235 @ 100° F
1
Jug
20° to 150°
Clear
No
NSF Registered H1

6
00000000
0000000