For Use With

For Use With
Show
For Use With

For Use With
Hide
Warning: Products have one, but not necessarily all, of the selected characteristics.
System of Measurement

System of Measurement
DFARS (Defense Acquisition Regulations Supplement)

DFARS

(Defense

Acquisition

Regulations

Supplement)
REACH (Registration, Evaluation, Authorization and Restriction of Chemicals)

REACH

(Registration,




Evaluation,

Authorization
and Restriction of

Chemicals)
RoHS (Restriction of Hazardous Substances)

RoHS

(Restriction

of
Hazardous

Substances)
Safety Containers for Oily Waste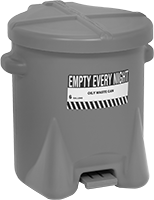 A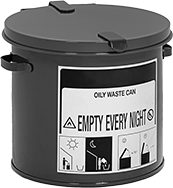 B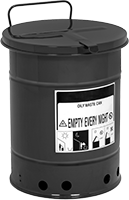 C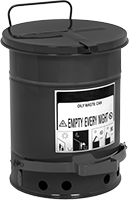 D
For temporary storage of oil- and solvent-soaked towels and brushes, these containers protect flammable contents from potential fire sources and spontaneous combustion.
Styles C and D have a raised ventilated bottom to promote air circulation and heat dispersion.
Style

Capacity,




gal.

Dia.

Ht.

Lid
Type
Message
Specifications
Met
Features
Choose
a
Color
Each

Plastic

A
6
13

1/2

"
16"
Step Open
Empty Every Night
FM Approved

__
00000000
000000
A
10
18"
18"
Step Open
Empty Every Night
FM Approved

__
00000000
000000
A
14
18"
21"
Step Open
Empty Every Night
FM Approved

__
00000000
000000

Steel

B
2
10"
9

1/2

"
Flip Up
Empty Every Night
FM Approved

__
000000
00000
C
6
12"
16"
Flip Up
Empty Every Night
FM Approved, UL Listed
Raised Bottom
0000000
00000
C
10
14"
18

1/2

"
Flip Up
Empty Every Night
FM Approved, UL Listed
Raised Bottom
0000000
000000
C
14
16"
20

1/2

"
Flip Up
Empty Every Night
FM Approved, UL Listed
Raised Bottom
0000000
000000
C
21
18

1/2

"
23

1/2

"
Flip Up
Empty Every Night
FM Approved, UL Listed
Raised Bottom
0000000
000000
D
6
12"
16"
Step Open
Empty Every Night
FM Approved, UL Listed
Raised Bottom
0000000
00000
D
10
14"
18

1/2

"
Step Open
Empty Every Night
FM Approved, UL Listed
Raised Bottom
0000000
000000
D
14
16"
20

1/2

"
Step Open
Empty Every Night
FM Approved, UL Listed
Raised Bottom
0000000
000000
D
21
18

1/2

"
23

1/2

"
Step Open
Empty Every Night
FM Approved, UL Listed
Raised Bottom
0000000
000000