Benches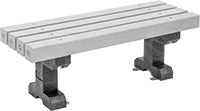 C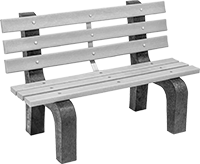 D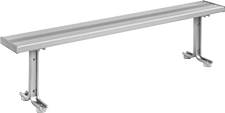 E

Brown Plastic

Gray Plastic
Aluminum
Add seating to a locker room, break area, or outdoor walkway.
Plastic benches resist chemicals, scratches, dents, and moisture. Styles C and D are often used outdoors. Made entirely of plastic, they resist damage from UV rays.
Aluminum benches provide the most durability. They also resist corrosion for use outdoors. Mount them to the floor with the included fasteners, or attach the included rubber feet for freestanding applications.
Style

Ht.

Wd.

Dp.

Thick.

Ht.

Wd.

Dp.

Cap.,




lbs.

No.


of
Material
Mounting
Location
Mounting
Fasteners
Included

No.


of

Dia.

For
Use
Outdoors
Each

Brown Plastic

C
17"
48"
17"
4"
__
__
__
500
2
Black Plastic
Floor
No
4

7/16

"
Yes
00000000
0000000
C
17"
72"
17"
4"
__
__
__
750
3
Black Plastic
Floor
No
6

7/16

"
Yes
00000000
000000
D
16"
48"
12"
2"
31"
48"
21

1/2

"
500
2
Black Plastic
__
__
__
__
Yes
00000000
000000
D
16"
72"
12"
2"
31"
72"
21

1/2

"
750
3
Black Plastic
__
__
__
__
Yes
00000000
000000

Gray Plastic

C
17"
48"
17"
4"
__
__
__
500
2
Black Plastic
Floor
No
4

7/16

"
Yes
00000000
000000
C
17"
72"
17"
4"
__
__
__
750
3
Black Plastic
Floor
No
6

7/16

"
Yes
00000000
000000
D
16"
48"
12"
2"
31"
48"
21

1/2

"
500
2
Black Plastic
__
__
__
__
Yes
00000000
000000
D
16"
72"
12"
2"
31"
72"
21

1/2

"
750
3
Black Plastic
__
__
__
__
Yes
00000000
000000

Aluminum

E
17"
48"
9

1/2

"
0.078"
__
__
__
480
2
Aluminum
Floor
Yes
4

3/8

"
Yes
0000000
000000
E
17"
72"
9

1/2

"
0.078"
__
__
__
720
2
Aluminum
Floor
Yes
4

3/8

"
Yes
0000000
000000
E
17"
96"
9

1/2

"
0.078"
__
__
__
960
2
Aluminum
Floor
Yes
4

3/8

"
Yes
0000000
000000
E
17"
120"
9

1/2

"
0.078"
__
__
__
1,200
3
Aluminum
Floor
Yes
6

3/8

"
Yes
0000000
000000