System of Measurement

System of Measurement
Number of Conduit Connections

Number of Conduit
Connections
DFARS (Defense Acquisition Regulations Supplement)

DFARS

(Defense

Acquisition

Regulations

Supplement)
Environmental Rating

Environmental Rating
Mounting Hole Diameter

Mounting Hole Diameter
Number of Mounting Holes

Number of Mounting Holes
Conduit Trade Size

Conduit Trade Size
Choosing an Electrical Switch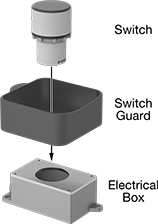 It takes two hands to activate these switches, minimizing the risk of accidental equipment start up. A complete system requires two switches, one safety relay, and two outlet boxes.
Outlet boxes have a drilled hole to fit the switch.
For technical drawings and 3-D models, click on a part number.

Outlet Box
No.

of
Connections
Trade
Size

Ht.

Wd.

Dp.

Mounting
Fasteners Included
Environmental
Rating
Each
1

3/4

2

1/8

"
2

7/8

"
6"
Yes
IP64

00000000
0000000