Outlet Splitters

G


Convert one outlet into multiple outlets.
Styles C and G have 360° rotating outlets that accommodate large plugs—the outlet face rotates a full circle.
Styles F-J have USB ports to charge mobile devices.
Splitters with surge suppression protect devices from voltage spikes. Surge rating indicates how much energy the outlet strip can absorb before it needs to be replaced. The higher the number, the better the protection.
Outlet Splitters with USB Ports

G


Style

No.


of
Outlets
Connection
Type

No.


of
Ports
NEMA


5-15


Socket
USB
Port
Voltage
Features
Material
Surge
Rating
Protection
Type
Specifications
Met
Color
Each

NEMA

5-15

Plug × NEMA

5-15

Socket

G
2
A
2
15
2.1
125V AC
360° Rotating Outlets
Plastic
306J
Surge Suppression
UL Listed, C-UL Listed

White
000000
000000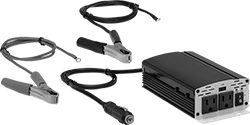 With Two Outlets and USB Ports

Plug these cords into a vehicle socket to charge devices that run on AC voltage. Also known as inverters or converters, they prevent damage from overloads.
Straight-Blade

Connection

Total


No.

of
Outlets
Voltage
End
Shape
NEMA
Style
Voltage
Wattage
End
Shape

Current, A

No.


of
Ports
End
Shape

Lg.,




ft.

Includes
Color
Each
2
12V DC
Straight
5-15
120V AC
500W
Straight
2.1
1
Straight
3
Battery Cable with Alligator Clips
Black/White
0000000
000000