Hammer-Driven

Oblong Hole Punches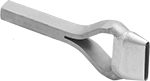 Make oblong holes in soft, nonmetallic materials. These punches are also known as arch punches.
Inspection Symbol Metal Stamps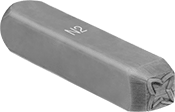 Mark surfaces with unique characters for traceability, quality control, and inspection. For use on materials with a Rockwell hardness up to C30, including leather, wood, and most metals.
Also Available: Other symbols and sizes. Please ask for 1574T999 and specify symbol and character height.

A2
Character


Ht.

Lg.

Wd.

Thick.

For

Max.

Surface
Hardness
Stamp
Material
Each

1/8

"
2

1/2

"

5/16

"

5/16

"
Rockwell C30
Steel
00000000
000000

3/16

"
2

7/8

"

3/8

"

3/8

"
Rockwell C30
Steel
00000000
00000

1/4

"
3"

1/2

"

1/2

"
Rockwell C30
Steel
00000000
00000

5/16

"
3"

1/2

"

1/2

"
Rockwell C30
Steel
00000000
00000

3/8

"
3"

5/8

"

5/8

"
Rockwell C30
Steel
00000000
00000