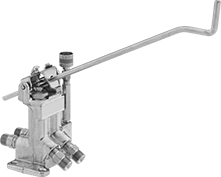 Hang your torch on these holders to turn off the gas flow and extinguish the flame during shutdown and between use. Start the gas flow by lifting the torch off the support lever and pass the tip over the pilot light to ignite.
Plasma/Oxyacetylene

Torch Cutting Guides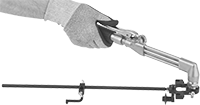 Insert a plasma or oxyacetylene torch in these guides for balance and stability when cutting straight, circular, and irregular shapes. They're designed to cut as well as bevel at the same time. The guides pivot on the centering pin and have a universal bushing that accepts all cutting torches.
Cutting Pattern

Min.

Max.

Each
Circle, Left Curves, Right Curves, Straight
2"
36"
0000000
0000000