About Sound Levels
To choose an alarm or speaker that's loud enough, first determine the decibel (dB) rating of background noise.
Portable Public Address Systems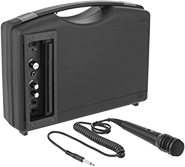 Corded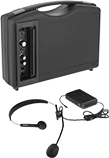 Wireless
Even with the built-in amplifier and speaker, these public address systems are light enough to carry from place to place. They operate on batteries or an AC adapter (sold separately).
Microphone
Type

Power,


W

Ht.

Wd.

Dp.

Weight,




lbs.

Weight with


Batteries,




lbs.

Cord


Lg.,




ft.

Wireless


Range,




ft.

Batteries
Included

No.

of
Batteries
Required
Battery
Size
Includes
Each
Corded
50
11"
14"
5"
4
8
15
__
No
10
D
Microphone
Microphone Cord with Plug
Carrying Case
0000000
0000000
Wireless
50
11"
14"
5"
4
8
__
300
No
10
D
Wireless Transmitter
Headset Microphone
Lapel Microphone
Carrying Case
0000000
000000
Microphones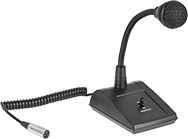 Freestanding

Hand Held