About Measuring Hose and Tube Clamps
What's the best way to determine the clamp size you'll need? Simply measure the outside diameter of your hose with the fitting installed. Some clamps accommodate a range of sizes, so be sure the size you need falls in the middle of that range.
Hand-Held

Stretch Wrap Dispensers
Dispenser with Straight Handle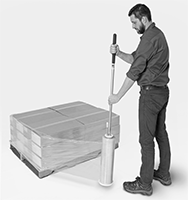 Dispenser with
Long-Reach
Straight Handle
Dispensers with a straight handle allow one-handed use.
Tension control lets you adjust the roll's spinning speed to regulate the amount of stretch on the wrap.
Add optional coreless mandrels to apply coreless stretch wrap.

Coreless Mandrel
Optional
Coreless
Mandrels

For
Roll


Wd.

For
Core
ID
Dispenser


Lg.

Material
Features
Each
Each

Straight Handles

14"-18"
3"
29

1/2

"
Aluminum
Brake Lever, Tension Control
0000000
0000000
0000000
0000000

Long-Reach

Straight Handles

11"-20"
3"
60"
Aluminum
Brake Lever, Cushion-Grip Handle, Tension Control
0000000
000000
0000000
000000
Light Duty Metal Strapping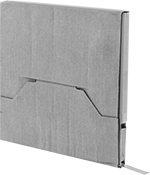 Use this strapping for securing pipe coverings as well as for packaging. Metal strapping is strong and will not stretch when wrapped around objects. The coil is wound like a roll of tape. To install, cut the strapping to your desired length with wire cutters, feed it through a buckle, and tighten.
Aluminum is lightweight and corrosion resistant. Tension it by hand or with a tensioner.
Note: To match with compatible strapping accessories, choose items for use with the same material and strapping group number.
For technical drawings and 3-D models, click on a part number.
Strapping
Group

No.

Wd.

Thick.

Lg.,




ft.

Average Breaking


Strength,

lbs.

Coil


Wd.

Each

Mini Coil

Aluminum

21

1/2

"
0.020"
200
200

1/2

"
0000000
000000