Anchored Cable Locks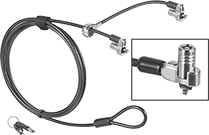 Often used to secure computer equipment, this cable lock has a lock at both ends to secure two pieces of equipment. Each lock fits into the standard built-in female security slot in PCs, laptops, and notebooks. The body is corrosion-resistant stainless steel. The cable has a nylon coating to prevent scratches and add weather resistance. Choose these locks if you need locks that each open with the same key. The included keys are designed to be difficult to duplicate.
To attach this lock to equipment without a built-in security slot, use an optional anchor (sold separately).
Build-Your-Own

Padlock Hanging Chains
To create a padlock hanging chain, pair a chain with a collar (sold separately).
Sash chain has flat links that have been stamped into shape; machine chain is made of welded links, which are stronger.
For technical drawings and 3-D models, click on a part number.