Flame-

and

Heat-Resistant

Pads

Pad

Prevent heat and flame damage in small spaces—these pads are a good alternative to large blankets during localized, high-heat applications. They are for intermittent contact with flames and hot surfaces.
Easy-To-Form

Ultra-Strength

Chemical-Resistant


PAEK and Carbon Fiber Sheets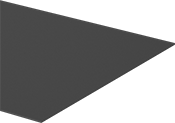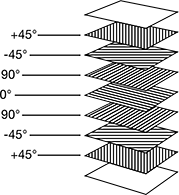 Quasi-Isotropic
Construction Layup
Color:

Black
Maximum

Temperature:

500° F

Tensile

Strength:




Bidirectional:

275,

550 psi
Quasi-

Isotropic:

94,

850 psi
Impact

Strength:

Not Rated

For Use

Outdoors:

No
Originally designed for the automotive and aerospace industries, these PAEK and carbon fiber sheets are a substitute for metal because they're as light as aluminum and as strong as a nickel alloy. Their combination of high strength, light weight, chemical resistance, and thermal properties is unusual for a composite. High tension won't break them apart and extreme compression won't shrink or crack them. They're also stiff and withstand abrasions and dents from heavy loads. Cleaning and degreasing chemicals, such as acetone and isopropyl alcohol, won't damage them. Unlike most composites, they're recyclable too.
Form these sheets into the shapes you need using heat and pressure. Compared to PEEK composites, they don't need as high of a curing temperature to thermoform them, so they save you time and energy. Different from composites made with adhesives and epoxies, which you must machine, layer, and cure, you can repeatedly and quickly heat and form these sheets without hurting their strength or chemical resistance. However, they will soften if the operating temperature exceeds 500° F—a higher maximum temperature than other thermoformable composites.
Quasi-isotropic sheets have extra rigid corners to resist bending and pulling in any direction. Though, they're not as good at resisting force in one direction as bidirectional sheets.
For technical drawings and 3-D models, click on a part number.
Thickness
Thickness
Tolerance
Appearance
Each
0.044"
-0.004" to 0.004"
Plain
0000000
0000000
0.088"
-0.009" to 0.009"
Plain
0000000
000000

Bidirectional

0.066"
-0.007" to 0.007"
Plain
0000000
000000
0.044"
-0.004" to 0.004"
Plain
0000000
00000000
0.088"
-0.009" to 0.009"
Plain
0000000
00000000

Bidirectional

0.066"
-0.007" to 0.007"
Plain
0000000
00000000