Social Distancing Mats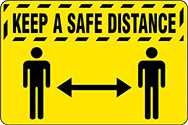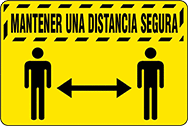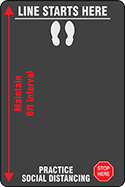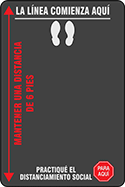 Encourage social distancing in areas where adhesive floor decals can't be used or where waiting-line locations often change. All of these mats have brightly-colored symbols and text that make them easy to spot and understand. Made of nylon fiber, they absorb moisture from shoes, so floors stay dry to prevent slipping. A vinyl coating on the back keeps them from buckling and moving to minimize tripping hazards.
Mats with line starts here and practice social distancing messages have 6-ft. interval markers to let people know where they should stand while waiting in line.
Width,




ft.

Length,




ft.

Thickness
Mat
Hardness
Material
Edge
Profile
For Use
Outdoors
Color
Each

Smooth

Keep A Safe Distance

(English)

3
5

3/8

"
Soft
Vinyl-Coated Nylon Fiber
Tapered
No
Yellow
0000000
0000000
4
6

3/8

"
Soft
Vinyl-Coated Nylon Fiber
Tapered
No
Yellow
0000000
000000

Mantener Una Distancia Segura

(Spanish)

3
5

3/8

"
Soft
Vinyl-Coated Nylon Fiber
Tapered
No
Yellow
0000000
000000
4
6

3/8

"
Soft
Vinyl-Coated Nylon Fiber
Tapered
No
Yellow
0000000
000000

Practice Social Distancing

(English)

4
6

3/8

"
Soft
Vinyl-Coated Nylon Fiber
Tapered
No
Gray
0000000
000000

Practique El Distanciamiento Social

(Spanish)

4
6

3/8

"
Soft
Vinyl-Coated Nylon Fiber
Tapered
No
Gray
0000000
000000

Line Starts Here

(English)

4
12

3/8

"
Soft
Vinyl-Coated Nylon Fiber
Tapered
No
Gray
0000000
000000

La Linea Comienza Aqui

(Spanish)

4
12

3/8

"
Soft
Vinyl-Coated Nylon Fiber
Tapered
No
Gray
0000000
000000