System of Measurement

System of Measurement
RoHS (Restriction of Hazardous Substances)

RoHS

(Restriction

of
Hazardous

Substances)
DFARS (Defense Acquisition Regulations Supplement)

DFARS

(Defense

Acquisition

Regulations

Supplement)
Installation Type

Installation Type
REACH (Registration, Evaluation, Authorization and Restriction of Chemicals)

REACH

(Registration,




Evaluation,

Authorization
and Restriction of

Chemicals)
Curb-Style

Storm Drain Filters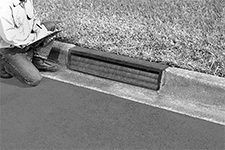 Prevent rainwater from carrying trash, debris, and sediment into sewers. These filters are often used on construction sites. They mount inside curb openings, keeping them out of the way of vehicles.
In addition to solids, 22"-35" filters remove oil and fuels from storm water. Two tension rods hold the filters in place.
Scouring Pads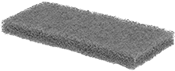 Contoured Shape
Scrub away heavy grease and grime with these pads.
Contoured pads are rounded to fit comfortably in your palm, with pointed ends to scrub corners. An antimicrobial treatment keeps bacteria from growing on these pads.
Abrasion
Type

Lg.

Wd.

Ht.

Choose a Color

Pkg.




Qty.

1-5

6-Up

Synthetic Fiber

Light
9"
6"

3/8

"
20
0000000
000000
000000
Light
9"
6"

3/8

"
White
10
000000
0000
0000
Medium
9"
6"

1/4

"
Green
10
0000000
0000
0000
Heavy
5"
3

1/2

"
1"
Blue
20
0000000
00000
00000
Heavy
9"
6"

3/8

"
Green
10
0000000
00000
0000

Contoured Shape

Synthetic Fiber

Medium
7"
4

1/4

"

3/8

"
Blue
20
0000000
00000
00000