Paint Removal Attachments for Angle Grinders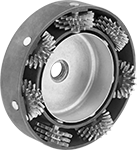 Use on 7" and 9" angle grinders and sanders to remove paint, rust, and scale from hard surfaces.
Attachments have hardened-steel cutting discs and a built-in safety guard.
Caution: Use only accessories that have a greater rpm rating than the maximum speed of the grinder you choose.