About Paint and Protective Coatings
Paint for Metal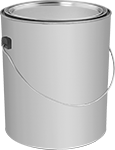 Paint metal surfaces to stop rust from starting and prevent existing rust from spreading. Scrape rusty areas clean before application. Although primer is not required for use on all materials, it can be used to prepare any surface to maximize the life and corrosion resistance of paint.
Silicone paint stops corrosion on high-temperature surfaces, such as smokestacks, incinerators, heaters, and heat exchangers.
Apply paint in a one-gallon can with a brush, roller, or sprayer.
Size,




gal.

Composition
Touch

O'all

Approx.


Coverage
@

Thick.

Max.




Temp.,




°F

For
Use
On
Primer
Required
For Use On
Color


(Appearance)

Each
Choose
a
Color
Each
1
Solvent Based
2 hrs.
24 hrs.
270 sq. ft. @ 2 mil
1000°
Steel, Stainless Steel
Steel, Stainless Steel
Cream (Flat)
000000
0000000
0000000
0000000
Powder-Coating

Touch-Up

Paint for Metal

Touch up scratches and wear on powder-coated metal without a primer. Choose the color that matches your equipment—this paint matches some of the most common colors used in powder-coating applications.
Container
Net


Weight,

oz.

Composition
Formulation

Touch,




hrs.

O'all,




hrs.

Approx.


Coverage
@

Thick.

Spray
Position

Max.




Temp.,




°F

For
Use
Outdoors
For
Use
On
Color


(Appearance)

1-5

6-Up

16
Solvent Based
Acrylic
4
24
144 sq. ft. @ 2 mil
Upright
120°
Yes
Aluminum, Brass, Bronze, Copper, Steel, Stainless Steel, Iron, Galvanized Iron, Galvanized Steel, Titanium, Silver
Cream (Gloss)
000000
000000
000000