Marking Cones
Use these cones for quick material identification, inventory control, and pallet staging.
Cones with Write-On Label

Polypropylene with
Write-On
Label
Stack-Prevention

Shipping Cones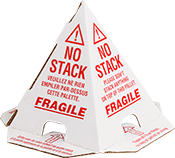 Strap or tape these cones to pallets and packages to alert handlers not to stack anything on top of them. Unlike shipping labels, these three-dimensional cones can be seen from all sides, even when operating a forklift. Made of cardboard, they will crush if something is stacked on them, indicating potential damage. Cones come flat for compact storage.
Message

Ht.

Lg.

Wd.

Material
Color
Message
Color

Wd.

Ht.

No.

of
Strap
Holes

Pkg.




Qty.

Pkg.

No Stack—Please Don't Stack Anything On Top Of This Pallet—Fragile
10"
8"
8"
Cardboard
White
Red
2"
1

1/8

"
4
10
0000000
000000