Riveting Hammers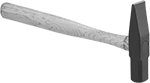 A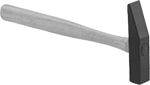 B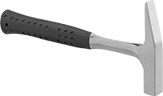 C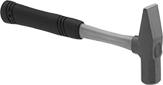 D
Set solid rivets by hand. These tools are also known as paneing, setting, and seaming hammers. Use the flat end of the head to drive rivets and pins. The other end of the head has a wedge shape for creating corners and seams in sheet metal. For replacement handles, see Hickory Hammer Handles.
Hickory handles resist vibration. Steel handles are stronger than hickory handles but have less vibration resistance. Fiberglass handles combine the strength of steel with the vibration resistance of hickory.
Textured grips provide slip resistance.
Head


Wt.,

lbs.

Face


Dia.

Face


Lg.

Face


Wd.

Overall


Lg.

Face
Material
Handle
Replaceable
Each

Hickory Handle with Plain Grip

A

1/2

11/16

"
__
__
11"
Steel
Replaceable
000000
000000
A

3/4

13/16

"
__
__
13

1/2

"
Steel
Replaceable
000000
00000
A
1

7/8

"
__
__
14"
Steel
Replaceable
000000
00000
B
1
__

13/16

"

13/16

"
13

1/2

"
Steel
Replaceable
000000
00000

Steel Handle with Textured Grip

C

3/4

__

13/16

"

3/4

"
11"
Steel
Nonreplaceable
000000
00000
C
1

1/4

__

15/16

"

7/8

"
12"
Steel
Nonreplaceable
000000
00000

Fiberglass Handle with Textured Grip

D
1
1"
__
__
12

1/2

"
Steel
Nonreplaceable
0000000
00000