Bend-and-Stay

Multipurpose 304 Stainless Steel Wire
Bend this wire and it will stay put. Frequently used as tying wire and locking wire, 304 stainless steel is a good all-around choice for a wide range of applications.
Flat wire won't roll or slip, so it provides a tight, secure wrap around pipes, rods, and other round surfaces.

Certificates with a traceable lot number are available for these products. Download certificates from ORDER HISTORY after your order ships.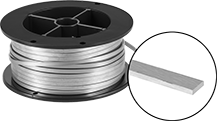 Spool with Flat Wire
Heat

Treatment:

Annealed

(Softened)

Heat

Treatable:

No
Tensile

Strength:

75,

000 psi
Specifications

Met:

ASTM A580
Thick.

Wd.

Thick.

Wd.

Max.




Temperature,

°F

Lg.,




ft.

Each

Lg.,




ft.

Each

Matte

0.01"
0.02"
-0.001" to 0.001"
-0.001" to 0.001"
500°
378
0000000
000000
1,515
0000000
000000
0.01"
0.03"
-0.001" to 0.001"
-0.001" to 0.001"
500°
252
0000000
00000
1,008
0000000
00000
0.02"
0.02"
-0.001" to 0.001"
-0.001" to 0.001"
500°
189
0000000
00000
756
0000000
00000
0.02"
0.04"
-0.001" to 0.001"
-0.001" to 0.001"
500°
94
0000000
00000
378
0000000
00000
0.02"
0.06"
-0.001" to 0.001"
-0.001" to 0.001"
500°
63
0000000
00000
252
0000000
00000
0.025"
0.025"
-0.001" to 0.001"
-0.001" to 0.001"
500°
114
0000000
00000
459
0000000
00000
0.032"
0.032"
-0.001" to 0.001"
-0.001" to 0.001"
500°
73
0000000
00000
295
0000000
00000
0.032"
0.064"
-0.001" to 0.001"
-0.001" to 0.001"
500°
37
0000000
00000
148
0000000
00000
0.032"
0.096"
-0.001" to 0.001"
-0.001" to 0.001"
500°
24
0000000
00000
98
0000000
00000
0.04"
0.04"
-0.001" to 0.001"
-0.001" to 0.001"
500°
47
0000000
00000
189
0000000
00000
0.04"
0.08"
-0.001" to 0.001"
-0.001" to 0.001"
500°
23
0000000
00000
95
0000000
00000
0.04"
0.12"
-0.001" to 0.001"
-0.001" to 0.001"
500°
15
0000000
00000
63
0000000
00000
0.05"
0.05"
-0.001" to 0.001"
-0.001" to 0.001"
500°
30
0000000
00000
121
0000000
00000
0.05"
0.1"
-0.001" to 0.001"
-0.001" to 0.001"
500°
15
0000000
00000
61
0000000
00000
Round Wire—Spools, Cans, and Coils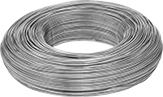 Coil
Heat

Treatment:

Annealed

(Softened)

Heat

Treatable:

No
Tensile

Strength:

75,

000 psi
Specifications

Met:

ASTM A580
Dia.

Dia.

Tolerance

Lg.,

ft.

Fabrication

Max.




Temperature,

°F

Net

Weight,




lbs.

Type
Each

Matte

0.038"
-0.001" to 0.001"
1,125
Cold Drawn
550°
5
Coil
0000000
000000