Reducing Engravers
Make quick, precise marks of varying sizes. As you trace stencils with one end of the engraving arm, the other end engraves them into your surface. Also known as pantographs, these engravers create reduced and one-to-one character sizes to fit your workpiece. The rotating cutter spindle allows for detailed work and smooth lines.
Use the carbide tip to rout plastic so the core color is revealed.
Engraver comes with a brass letter and number stencil set that can be used to create 25 different character heights. Includes 0-9, A-Z, 30 spacers, and a punctuation set of &, period, comma, dash, apostrophe, quotation marks, colon, and semicolon.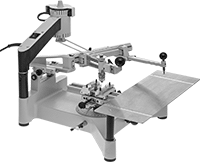 Stroke
Speed
Control
Strokes
per
Minute
Voltage

Wd.

Lg.

Wd.

Lg.

For

Max.


Material


Thick.

Engraving
Ratio

Ht.

Wd.

Dp.

Wd.




(Material)

Style
Carbide
For Use
On
Diamond
For Use
On
Plug
Type
Each
Fixed
18,000
120V AC
5"
9

1/2

"
6"
16"
1

3/4

"
1:1 to 7:1
13"
16"
18"
0.02" (Carbide)
0.03" (Carbide)
0.02" (Diamond)
Point
Acrylic Plastic, Rubber, Wood
Ceramic, Glass, Phenolic Plastic, Steel, Stone
Three Prong
00000000
000000000
Material
Style
For
Use
On
Choose
a Tip


Wd.

Each
Carbide
Point
Acrylic Plastic, Rubber, Wood
00000000
000000
Carbide
Point
Aluminum, Brass, Bronze, Copper, Iron, Lead, Nickel, Stainless Steel, Tin
00000000
00000
Diamond
Point
Ceramic, Glass, Phenolic Plastic, Steel, Stone
0.02"
00000000
00000
Replacement Character Sets
| | | | |
| --- | --- | --- | --- |
| Material | Includes | | Each |
| Brass | 30 each of Blank ( );One each of 0-9 and A-Z;One each of Ampersand (&), Apostrophe ('), Colon (:), Comma (,), Dash (-), Period (.), Quotation Marks ("), and Semicolon (;) | 00000000 | 0000000 |