Paper-Padded

Shipping Envelopes with

Adhesive-Strip

Closure
Bubble-Lined

Paper Shipping Envelopes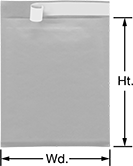 A puncture-resistant bubble lining protects contents. Close envelopes with the convenient built-in adhesive strip.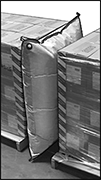 These inflatable paper bags prevent tipping and provide a cushion between products to reduce damage during transit. Use the inflator nozzle (sold separately) to fill bags with compressed air. The nozzle connects to your air supply and includes a tip that fits the receptacle in each bag. Puncture bags to deflate.
Moisture-Resistant

Paper Bags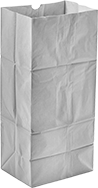 Often used in landscaping applications, these bags stand up to damp waste. They're made of kraft paper with a moisture-resistant coating.
Capacity,




gal.

Ht.

Wd.

Dp.

Thick.,


mil
Material
Color

Pkg.




Qty.

Pkg.

Extra Heavy Duty

30
35"
16"
12"
5
Paper
Brown
5
00000000
00000
Sanitary Napkin Disposal Bags

Material
Color
Closure
Style

Pkg.




Qty.

Pkg.

Wax-Coated Paper
White
Open Top
250
0000000
000000
Desiccant Bags

Remove moisture from sealed containers during shipping and storage.
These desiccants are best when relative humidity is at least 40%. The area covered is calculated at 77° F and 40% relative humidity.
For

Area,




cu.

in.

Removal Capacity

Lg.

Wd.

Wt.,




oz.

Bag
Material

Pkg.




Qty.

Pkg.

Pkg.




Qty.

Pkg.

Anhydrous Calcium Sulfate

1,300
Up to 6% of desiccant weight
1"
2

1/4

"
0.11
Paper
25
0000000
00000
750
0000000
000000
2,600
Up to 6% of desiccant weight
1"
2

1/4

"
0.21
Paper
__
000000
00
750
0000000
00000
2,600
Up to 6% of desiccant weight
1"
2

3/4

"
0.21
Paper
25
0000000
00000
__
000000
00
12,275
Up to 6% of desiccant weight
4"
3

3/4

"
1
Paper
25
0000000
00000
200
0000000
00000
24,525
Up to 6% of desiccant weight
4

3/4

"
3

3/4

"
2
Paper
20
0000000
00000
400
0000000
000000
49,075
Up to 6% of desiccant weight
6

1/4

"
3

3/4

"
4
Paper
10
0000000
00000
200
0000000
00000
98,150
Up to 6% of desiccant weight
6

1/4

"
5

3/4

"
8
Paper
5
0000000
00000
100
0000000
00000