Food Service Plates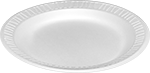 Disposable Foam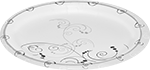 Disposable Paper

Compostable Sugarcane Fiber
Serve full portions on these 9" plates.
Foam plates are disposable, and do not absorb liquids.
Paper plates have a plastic coating to keep liquids from soaking through. No need to reinforce them with a second paper plate—they are sturdy enough to hold a full meal.
Sugarcane fiber plates are made from natural plant material, so they can be composted.
Dia.

Color
Specifications Met

Pkg.




Qty.

Pkg.

Pkg.




Qty.

Pkg.

Disposable Foam

9"
White
FDA Compliant 21 CFR 177.1640

125
0000000
000000
500
00000000
0000000

Disposable

Plastic-Coated

Paper

9"
White with Design
FDA Compliant 21 CFR 176.170
125
0000000
00000
500
00000000
000000

Compostable Sugarcane Fiber

9"
Beige
__
125
0000000
00000
__
000000
00