Paper Towel Dispensers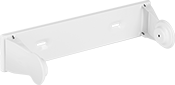 A
B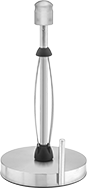 C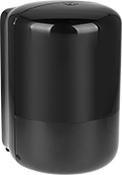 D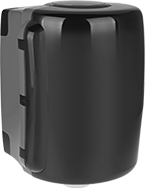 E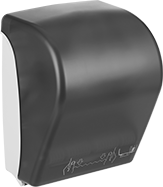 G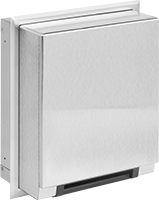 J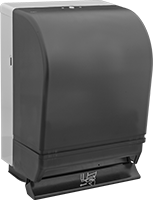 K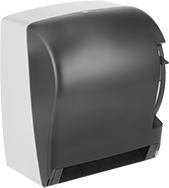 L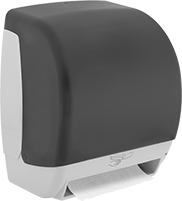 F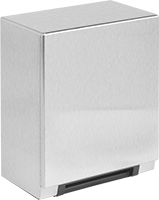 H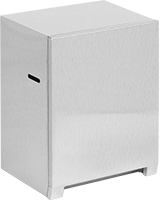 M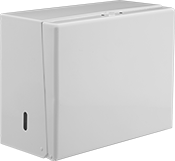 N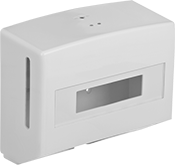 U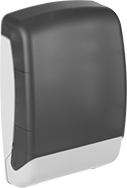 P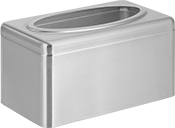 V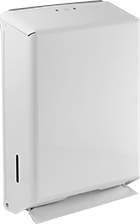 Q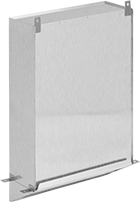 R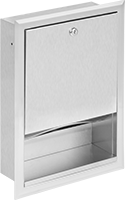 S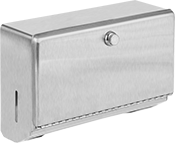 T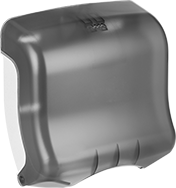 W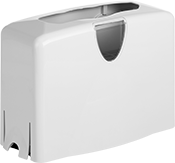 X
Keep paper towels handy for customers and employees.
Center-pull and pop-up box dispensers release one towel at a time to reduce waste, conserve paper, and save money.
Touch-free dispensers release a towel when motion is detected. The sheet length is adjustable. Those with LED lights let users know where to wave their hand to activate the release of a towel.
Use freestanding dispensers on countertops. Dispensers that mount on walls are lightweight for easy installation.
Recessed dispensers fit into an opening, so they are flush with the mounting surface. Those that mount in cabinets can be concealed behind a wall or mirror. Load towels into the towel tray, which is the only part of the dispenser that will be visible.
Choose dispensers with a compact design when space is tight or at a premium, such as in hospitality, retail, and commercial environments.
Style D, E, H, K, Q, T, U, and V help you comply with the Americans with Disabilities Act (ADA) when properly installed.
Optional dispensing inserts can be added to some dispensers, so they'll release one towel at a time without tearing or bunching. They reduce towel usage by 20% to 40%.
Paper Towel
Dispenser/Waste

Containers

Recessed

Surface Mount
Offer paper towels and a place to discard them. There's a separate key-locking cover on the dispenser and waste container. The waste container is removable for easy emptying. Dispensers help you comply with ADA when properly installed.
Recessed model requires a wall opening.
For technical drawings and 3-D models, click on a part number.
Multifold
Paper
Towel

Cap.

Ht.

Wd.

Dp.

Ht.

Wd.

Dp.

Projection

Cap.,




gal.

Material
Hardware
Included

No.


of
Holes
Hole


Dia.

Specifications
Met
Each

Recessed

For Folded Paper Towels

800
56"
17

1/4

"
8

1/4

"
54

3/4

"
16"
4"
4

1/4

"
12
Stainless Steel
No
6

7/32

"
ANSI A117.1
0000000
0000000

Surface Mount

For Folded Paper Towels

800
56

1/4

"
17

1/2

"
8

1/4

"
__
__
__
__
12
Stainless Steel
No
6

7/32

"
ANSI A117.1
0000000
000000
Roll Dispensers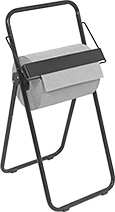 Roll not Included
Easily store and unroll the amount of wipes you need—works with all the wipe rolls we sell.
Wd.

Dp.

Ht.

Color
Material
Each
17"
18

1/2

"
33"
Black
Painted Steel
0000000
000000
Slatwall Holders

G
Store tools such as shovels and screwdrivers for convenient access.
Styles A-L are vinyl coated to protect tools from scratches.
Style
For Item


Dia.

Projection

Wd.

For

Center-to-Center


Channel Spacing
Material
Each
G
1

1/2

"
3"
13

3/8

"
3"
Black Vinyl-Coated Steel
0000000
000000