About Selecting Thermal Insulation
Filter Paper Discs

Disc
Often used in laboratory testing, these discs are designed to capture tiny particles from fluids.
Fiberglass discs remain strong even when wet. Use them to filter large amounts of solids, or in applications with a high flow rate. They are autoclavable, meaning they can be sterilized with steam.
Thermally Stable Composite Paper Insulation Sheets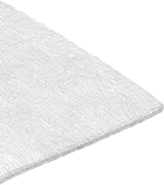 Max.

Temperature:

1100° F

Heat Flow

Rate:

0.

22

Btu @

75° F

Density:

8.

7

lbs./cu.

ft.

Color:

White
Specifications

Met:

UL 94 V-0
Made of flexible composite paper, these sheets won't shrink or lose shape in the high temperatures of air furnaces and hot water tanks.