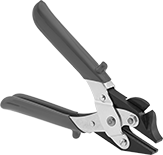 Cushion Grip with Wire Cutter

Jaws remain parallel as they move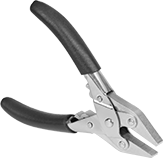 Cushion Grip without Wire Cutter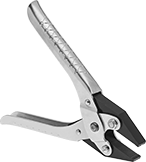 Plain Grip without Wire Cutter

Plain Grip with Wire Cutter
The jaws remain parallel as they move to keep irregularly shaped objects from slipping forward when pressure is applied.
Pliers with a wire groove have a slot in the lower jaw for feeding wire and pins down the throat of the pliers. Close the pliers to hold material firmly in place during pulling operations.
Pliers with a cushion grip have handles with plastic grips for comfort.
Overall


Lg.

Max.


Capacity

Lg.

Texture
Material
With
Wire
Cutter

Max.


Gauge

Max.




Dia.

Type

Features
Each

Flat Jaws and Cushion Grip

6

1/2

"

3/8

"
1

1/4

"
Serrated
Steel
Yes
14
0.064"
Soft Wire, Hardened Wire
__
000000
000000
6

1/2

"

3/8

"
1

1/2

"
Serrated
Steel
No
__
__
__
__
000000
00000
8"

3/4

"
1

5/8

"
Serrated
Steel
Yes
4
0.204"
Hardened Wire
Wire Groove
000000
00000

Flat Jaws and Plain Grip

5"

3/8

"
1

3/8

"
Serrated
Steel
No
__
__
__
__
000000
00000
5"

3/8

"
1

3/8

"
Serrated
Steel
Yes
10
0.102"
Hardened Wire
Wire Groove
000000
00000
8"

3/4

"
1

5/8

"
Serrated
Steel
No
__
__
__
__
000000
00000