How to

Identify and Measure Fittings
Pipe size is an industry designation, not the actual size. View information about how to measure threaded and unthreaded pipe and pipe fittings.
Lubrication Hose Fittings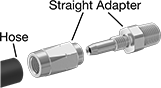 Use these two-piece fittings in grease and lubrication lines. They screw directly onto plastic hose without the need for a separate adapter. To install, separate the two pieces of the fitting (the hose-end portion and the nipple portion). Screw the hose-end portion of the fitting onto the hose, then thread the nipple portion of the fitting into the hose-end portion. When assembled, the fitting compresses against the hose, forming a strong seal. Also known as reusable fittings, they can be unscrewed from the hose end and used on a new hose. Fittings are zinc-plated steel, which is strong and durable with fair corrosion resistance.
Fittings with intermittent swivel rotate 360° until tightened for easy installation.
Fittings with a 37° flared end are also known as JIC (Joint Industrial Council) fittings.
NPTF (Dryseal) threads are compatible with NPT threads.
For technical drawings and 3-D models, click on a part number.
Straight Adapters, Screw-On Hose × Male Threaded Pipe
Straight Adapters (Intermittent Swivel), Screw-On Hose × Male Threaded Pipe
Straight Adapters (Intermittent Swivel), Screw-On Hose × Female 37° Flared Tube

Maximum

Pressure:

3,

000

psi @

72° F

Temperature

Range:

-40° to 120° F

For Hose

Manufacturer

Series:

Parker HLB
Specifications

Met:

SAE J514