Parker Modular Compressed Air
Filter/Regulator/Lubricators
(FRLs)
A Parker filter, regulator, and lubricator are combined to provide clean, lubricated compressed air at your required pressure. They come with a safety lockout valve for one convenient unit that's ready to use. The valve can be locked in the shut-off position to prevent accidental start-up when servicing equipment. Regulator is relieving style, so it exhausts when the downstream pressure exceeds the set pressure. Filter and lubricator have a clear bowl so you can monitor the contents inside.
Stacked filter/regulator/lubricators require less horizontal space than inline FRLs. The filter and regulator are joined top-to-bottom with the lubricator on the side.
Mounting brackets allow you to attach the filter/regulator/lubricator to a wall or equipment.
Series No. 33—NPT Female Inlet and Outlet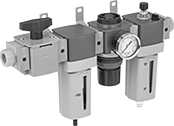 Inline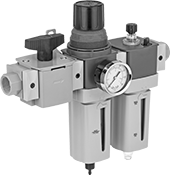 Stacked
Filter/Regulator/Lubricators

Manufacturer
Series
Inlet

Outlet

Max.


Flow
Rate

Max.




Pressure,


psi
Removes Particle
Size Down


To,

microns
Pressure
Regulating


Range,

psi
Features

Ht.

Wd.

Each
Each

Inline with Clear Polycarbonate Plastic Bowl

P33

1/2

1/2

90 scfm @ 100 psi
150
5
3-125
Safety Lockout Valve
12"
15"
000000
0000000
00000000
000000
P33

3/4

3/4

110 scfm @ 100 psi
250
5
2-125
Safety Lockout Valve
9

3/4

"
15

1/4

"
000000
000000
00000000
00000

Stacked with Clear Polycarbonate Plastic Bowl

P33

1/2

1/2

90 scfm @ 100 psi
150
5
3-125
Safety Lockout Valve
12"
11

1/2

"
0000000
000000
00000000
00000
P33

3/4

3/4

110 scfm @ 100 psi
150
5
3-125
Safety Lockout Valve
12"
11

1/2

"
000000
000000
00000000
00000