Passivated
Corrosion-Resistant

316 Stainless Steel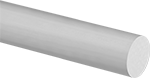 Yield

Strength:

30,

000 psi

Hardness:

Rockwell B95

(Medium)

Heat

Treatment:

Annealed

(Softened)

Heat

Treatable:

No
Specifications

Met:

ASTM

A276,

SAE AMS5648
These rods have been passivated for enhanced corrosion resistance. The addition of molybdenum gives 316 stainless steel excellent corrosion resistance. Use it in a variety of marine and chemical-processing applications. This material maintains its corrosion resistance in temperatures up to 1600° F.
For technical drawings and 3-D models, click on a part number.

Certificates with a traceable lot number are available for these products. Download certificates from ACTIVITY after your order ships.
Dia.

Dia.

Tolerance
Fabrication

1 ft.




Lg.

3 ft.




Lg.

6 ft.




Lg.

1/8

"
-0.004" to 0.004"
Cold Drawn
000000

3/16

"
-0.004" to 0.004"
Cold Drawn
000000

1/4

"
-0.004" to 0.004"
Cold Drawn
000000

3/8

"
-0.004" to 0.004"
Cold Drawn
000000

1/2

"
-0.004" to 0.004"
Cold Drawn
000000

5/8

"
-0.004" to 0.004"
Cold Drawn
000000

3/4

"
-0.004" to 0.004"
Cold Drawn
000000

7/8

"
-0.004" to 0.004"
Cold Drawn
000000
1"
-0.004" to 0.004"
Cold Drawn
000000