Pear-Shaped

Threaded Connecting

Links—

Not for Lifting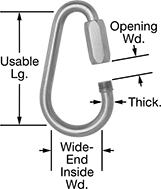 The narrow end restricts the movement of rope and chain and the wide end allows room to attach multiple connectors. Also known as quick links, screw the nut onto the threaded end to attach end fittings. They can be reused.
Zinc-plated steel links are mildy corrosion resistant.
316 stainless steel links have excellent resistance to salt water and chemicals.
For technical drawings and 3-D models, click on a part number.
Thick.

Opening


Wd.

Inside


Lg.

Wide-End


Inside

Wd.

Capacity,




lbs.

Each

1/8

"

3/8

"
1

13/16

"

13/16

"
100
0000000
00000

5/32

"

7/16

"
2

1/16

"

15/16

"
100
0000000
0000

3/16

"

1/2

"
2

3/8

"
1

1/16

"
200
0000000
0000

1/4

"

9/16

"
2

11/16

"
1

3/16

"
400
0000000
0000

5/16

"

11/16

"
3

5/16

"
1

3/8

"
1,000
0000000
0000

3/8

"

3/4

"
3

1/2

"
1

1/2

"
1,300
0000000
00000

1/2

"

15/16

"
4

11/16

"
2"
1,900
0000000
00000

9/16

"
1

1/16

"
5

1/16

"
2

3/16

"
3,100
0000000
00000

5/8

"
1

1/8

"
5

11/16

"
2

1/2

"
4,400
0000000
00000

316 Stainless Steel

1/8

"

3/8

"
1

13/16

"

13/16

"
200
0000000
0000

5/32

"

7/16

"
2

1/16

"

15/16

"
300
0000000
00000

3/16

"

1/2

"
2

3/8

"
1

1/16

"
500
0000000
00000

1/4

"

9/16

"
2

11/16

"
1

3/16

"
800
0000000
00000

5/16

"

11/16

"
3

5/16

"
1

3/8

"
1,400
0000000
00000

3/8

"

3/4

"
3

1/2

"
1

1/2

"
1,800
0000000
00000

1/2

"

15/16

"
4

11/16

"
2"
3,300
0000000
00000

9/16

"
1

1/16

"
5

1/16

"
2

3/16

"
4,600
0000000
000000

5/8

"
1

1/8

"
5

11/16

"
2

1/2

"
5,900
0000000
000000