Perforated Panels for Enclosures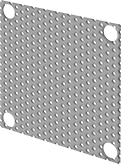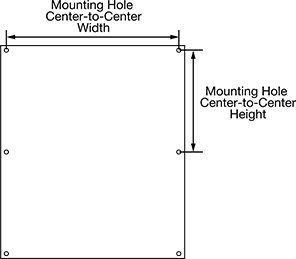 Unlike solid panels, these panels have a grid of holes sized to fit self-tapping screws, so there's nothing to measure, mark, or cut. Mount components to the panel, then install it in your enclosure. Using a panel helps keep dust and water out because components mount on the panel and not through holes in the enclosure itself.
For technical drawings and 3-D models, click on a part number.
Mounting
Hole


Ctr.-to-Ctr.

Ht.

Wd.

Ht.

Wd.

Dia.

Ctr.-to-Ctr.

No.

of Mounting
Holes
Each
4

1/4

"
4

1/4

"
3

5/8

"
3

5/8

"

1/8

"
0.25"
4
0000000
00000
6

1/4

"
4

1/4

"
5

5/8

"
3

5/8

"

1/8

"
0.25"
4
0000000
0000
6

1/4

"
6

1/4

"
5

5/8

"
5

5/8

"

1/8

"
0.25"
4
0000000
0000
8

1/4

"
6

1/4

"
7

5/8

"
5

5/8

"

1/8

"
0.25"
4
0000000
0000
8

1/4

"
8

1/4

"
7

5/8

"
7

5/8

"

1/8

"
0.25"
4
0000000
00000
10

1/4

"
8

1/4

"
9

5/8

"
7

5/8

"

1/8

"
0.25"
4
0000000
00000
10

1/4

"
10

1/4

"
9

5/8

"
9

5/8

"

1/8

"
0.25"
4
0000000
00000
12

1/4

"
10

1/4

"
11

5/8

"
9

5/8

"

1/8

"
0.25"
4
0000000
00000
13"
9"
11

1/4

"
7

1/4

"

1/8

"
0.25"
4
0000000
00000
13"
10

1/2

"
11

1/2

"
9"

1/8

"
0.25"
4
0000000
00000
13"
13"
11

1/4

"
11

1/4

"

1/8

"
0.25"
4
0000000
00000
13"
14

1/2

"
11

1/2

"
13"

1/8

"
0.25"
4
0000000
00000
13"
18

1/2

"
11

1/2

"
17"

1/8

"
0.25"
4
0000000
00000
14

1/4

"
10

1/4

"
13

5/8

"
9

5/8

"

1/8

"
0.25"
4
0000000
00000
15"
15"
13

1/4

"
13

1/4

"

1/8

"
0.25"
4
0000000
00000
17"
13"
15

1/4

"
11

1/4

"

1/8

"
0.25"
4
0000000
00000
17"
14

1/2

"
15

1/2

"
13"

1/8

"
0.25"
4
0000000
00000
17"
17"
15

1/4

"
15

1/4

"

1/8

"
0.25"
4
0000000
00000
17"
18

1/2

"
15

1/2

"
17"

1/8

"
0.25"
4
0000000
00000
17"
22

1/2

"
15

1/2

"
21"

1/8

"
0.25"
4
0000000
00000
18

1/4

"
10

1/4

"
17

5/8

"
9

5/8

"

1/8

"
0.25"
4
0000000
00000
21"
14

1/2

"
19

1/2

"
13"

1/8

"
0.25"
4
0000000
00000
21"
18

1/2

"
19

1/2

"
17"

1/8

"
0.25"
4
0000000
00000
21"
22

1/2

"
19

1/2

"
21"

1/8

"
0.25"
4
0000000
00000
26"
18

1/2

"
12

1/4

"
17"

1/8

"
0.25"
6
0000000
00000
26"
22

1/2

"
12

1/4

"
21"

1/8

"
0.25"
6
0000000
00000
26"
28

1/2

"
12

1/4

"
13

1/2

"

1/8

"
0.25"
8
0000000
000000
32"
22

1/2

"
15

1/4

"
21"

1/8

"
0.25"
6
0000000
000000
32"
28

1/2

"
15

1/4

"
13

1/2

"

1/8

"
0.25"
8
0000000
000000
38"
22

1/2

"
18

1/4

"
21"

1/8

"
0.25"
6
0000000
000000