Basket Stretchers

The mesh basket provides added comfort and security for transporting injury victims extended distances.
Lg.

Wd.

Ht.

Cap.,




lbs.

Material
Features
Cannot Be
Sold To
Each
80

1/2

"
22

1/2

"
8"
1,500
Steel
Adjustable Footrest, Restraining Straps (4)
Canada
0000000
0000000
Forklift Platforms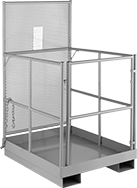 Transform your forklift into an elevated work platform. A chain secures these platforms to the forklift mast, and a backguard protects you from moving parts. Platforms also have a fork lock and two attachment points for fall restraints. Gate swings inward and outward. The walking surface has a diamond-plate texture for good slip resistance.
You are responsible for adhering to local, state, and federal safety codes, including OSHA.
Add swivel casters (sold individually) for mobility.
Wd.

Dp.

Guardrail


Ht.

Toeboard


Ht.

Wd.

Ht.

Cap.,




lbs.

Platform
Tread
Assembled
or
Unassembled
Specifications
Met
Each
Each
Each
36"
36"
42"
4"
7

1/2

"
3

3/4

"
1,000
Diamond Plate
Assembled
ANSI B56.1
0000000
0000000
0000000
000000
00000000
000000
36"
48"
42"
4"
7

1/2

"
3

3/4

"
1,000
Diamond Plate
Assembled
ANSI B56.1
0000000
00000000
0000000
00000
00000000
00000
48"
48"
42"
4"
7

1/2

"
3

3/4

"
1,000
Diamond Plate
Assembled
ANSI B56.1
0000000
00000000
0000000
00000
00000000
00000
| | | | |
| --- | --- | --- | --- |
| Optional Light Bulb Tray | 0000000 | Each | 000000 |