In-Plant

Office Buildings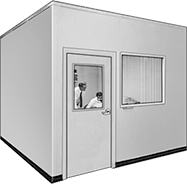 Easy to assemble and relocate when necessary, these office buildings create a private work space in your warehouse or manufacturing facility.
Buildings come with four walls but do not come with a floor. Each building has 3" thick, R-11 insulated wall panels; 24-ga. steel floor track with screw-on vinyl base; steel posts with wiring access on two sides; aluminum top caps and corner posts; 22-ga. corrugated steel roof; and a 24" × 48" noncombustible lay-in acoustical ceiling system.
You'll also get a 36" Wd. × 84" Ht. × 1 3/4" Thick. door that's made of 20-ga. steel and hung on an 18-ga. steel frame. The door has a 24" Wd. × 24" Ht. × 1/4" Thick. tempered glass window and comes furnished with a keyed lock and two keys (keyed differently). All doors swing out and are hinged on the left.
Buildings include up to three (see below) factory-installed tempered glass windows that measure 48" Wd. × 36" Ht. × 1/4" Thick., which can be installed in any wall panel location.
They also come with an electrical package that includes 24" × 48" recessed fluorescent light fixtures with acrylic lens cover (four 48" long T8 bulbs required and not included), 110V AC outlet, wall switch, outlet boxes, conduit (wiring not included), and a circuit breaker panel (with breakers) that's rated at 100 amps with a 70-amp main.
Wd.

Ht.

Dp.

No.

of
Windows

No.

of
Outlets

No.

of Light
Fixtures
Color
Specifications Met
Each
8'
8'
8'
1
2
1
Gray
ASTM E84 Class A
00000000
000000000
8'
8'
8'
3
2
1
Gray
ASTM E84 Class A
00000000
00000000
8'
8'
10'
1
2
1
Gray
ASTM E84 Class A
00000000
00000000
8'
8'
10'
3
2
1
Gray
ASTM E84 Class A
00000000
00000000
10'
8'
12'
2
4
3
Gray
ASTM E84 Class A
00000000
00000000
10'
8'
12'
3
4
3
Gray
ASTM E84 Class A
00000000
00000000
12'
8'
16'
3
4
3
Gray
ASTM E84 Class A
00000000
000000000
12'
8'
20'
3
5
4
Gray
ASTM E84 Class A
00000000
000000000
| | | | |
| --- | --- | --- | --- |
| Wall Channel for Air Conditioner Cut-Out (12' Lg., 3" Thick.) | 00000000 | Each | 000000 |