About
Backflow-Prevention

Valves
Ultra-Chemical-Resistant

Threaded Check Valves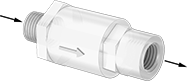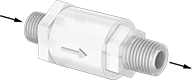 For Use

With:

Acetone,

Ammonia,

Butane,

Carbon

Dioxide,

Citric

Acid,

Diesel

Fuel,

Ethylene

Glycol,

Fuel

Oil,

Gasoline,

Hydrochloric

Acid,

Isopropyl

Alcohol,

Kerosene,

Methanol,

Methyl Ethyl

Ketone,

Mineral

Spirits,

Natural

Gas,

Nitric

Acid,

Nitrogen,

Oil,

Oxygen,

Phosphoric

Acid,

Propane,

Salt

Water,

Soap

Solutions,

Sodium

Hydroxide,

Sodium

Hypochlorite,

Sulfuric

Acid,

Toluene,

Water,

Xylene
Piston

Material:

PTFE Plastic
Spring

Material:

PTFE Plastic
The most chemical-resistant check valves in our offering, these have a PFA body to withstand methyl ethyl ketone, sodium hypochlorite, and other extremely harsh chemicals. They open to allow flow in one direction and close when flow stops or reverses.
Flow coefficient (Cv) is the amount of water (in gallons per minute) at 60° F that will flow through a fully open valve with a difference of 1 psi between the inlet and the outlet.
For technical drawings and 3-D models, click on a part number.
Pipe
Size

Flow
Coefficient

(Cv)

Max.

Pressure

Min.

Opening


Pressure,

psi
Temperature


Range,

°F

Color

End-to-End




Lg.

Each

PFA Plastic Body

NPT Female × NPT Female

1/4

0.75
125 psi @ 150° F
1
0° to 210°
White
2

3/8

"
00000000
0000000

1/2

4
100 psi @ 150° F
1
0° to 210°
White
3

3/8

"
00000000
000000

NPT Female × NPT Male

1/4

0.75
125 psi @ 150° F
1
0° to 210°
White
2

7/16

"
00000000
000000

NPT Male × NPT Female

1/4

0.75
125 psi @ 150° F
1
0° to 210°
White
2

1/16

"
00000000
000000

NPT Male × NPT Male

1/4

0.75
125 psi @ 150° F
1
0° to 210°
White
2

7/16

"
00000000
000000