How to

Identify and Measure Fittings
Pipe size is an industry designation, not the actual size. View information about how to measure threaded and unthreaded pipe and pipe fittings.
Crack-Resistant

PFA Pipe Fittings for Chemicals
For Use

With:

Acetic

Acid,

Alcohol,

Salt Water

Max.

Temperature:

150° F
Not only do these PFA fittings have the chemical resistance to handle acid and salt water, they also have better crack resistance than other plastic pipe fittings for chemicals. Also known as Schedule 80 fittings, they have thick, strong walls to handle heavy duty chemical processing applications. Fittings have a super-smooth interior for unrestricted flow. They are commonly used in high-purity chemical flow processes, such as semiconductor and clean room applications, because the material won't leach contaminates into the line. Apply a non-hardening, plastic-compatible sealant to the male threads to prevent leaks. Tape or sealants with PTFE are not recommended for plastic-to-plastic threaded connections. When making a threaded connection be careful not to overtighten the threads. To connect, finger tighten the fitting, then wrench-tighten one to two turns.
Warning: Never use plastic pipe fittings and pipe with compressed air or gas.
Sealants cannot be sold to Colorado, Connecticut, District of Columbia, Delaware, Illinois, Indiana, Massachusetts, Maryland, Maine, Michigan, New Hampshire, New Jersey, Northern Virginia, New York, Ohio, Pennsylvania, Rhode Island, or Utah due to local VOC (Volatile Organic Compounds) regulations.
For technical drawings and 3-D models, click on a part number.
Compression Fittings for Plastic
Tubing—

Chemicals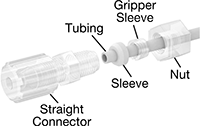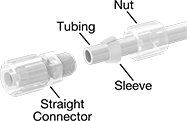 For Use

With:

PFA

Plastic:

Hydrochloric

Acid,

Sulfuric Acid
PTFE

Plastic:

Alcohol,

Ammonia,

Benzoic

Acid,

Bleach,

Bromine,

Coolant,

Fluoboric

Acid,

Hydrochloric

Acid,

Hydrofluoric

Acid,

Nitric

Acid,

Organic

Solvents,

Sodium

Carbonate,

Sulfuric Acid
Temperature

Range:

PFA

Plastic:

0° to 350° F


PTFE

Plastic:

-40° to 185° F

Tubing:

PFA

Plastic:

Use with hard

(Durometer

50D-65D)

PFA or PTFE plastic
PTFE

Plastic:

Use with hard

(Durometer

60D)

PFA or PTFE plastic
A sleeve (ferrule) compresses the tubing as you tighten the nut, creating a strong seal. The nut and sleeve are included. Fittings are also known as flareless fittings. Fittings that include a gripper sleeve on the tubing create an even tighter seal.
PFA fittings stand up to harsh substances. They're made through a melting process. PTFE fittings are highly resistant to most acids, alcohols, detergents, and solvents. They're made by machining. Their nut is made of PVDF, which is resistant to halogens such as chlorine and bromine, strong acids such as hydrofluoric and nitric acids, and organic solvents.
For technical drawings and 3-D models, click on a part number.