For Shaft Diameter

For Shaft Diameter
Wind Direction

Wind Direction
Wire Diameter

Wire Diameter

Number of Coils

Number of Coils

Spring Length @ Maximum Torque

Spring Length @
Maximum Torque

DFARS (Defense Acquisition Regulations Supplement)

DFARS

(Defense

Acquisition

Regulations

Supplement)
REACH (Registration, Evaluation, Authorization and Restriction of Chemicals)

REACH

(Registration,




Evaluation,

Authorization
and Restriction of

Chemicals)
RoHS (Restriction of Hazardous Substances)

RoHS

(Restriction

of
Hazardous

Substances)
Torsion Springs





Right-Hand
Wind Direction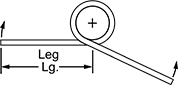 Found in clothespins, spring clamps, and mousetraps, torsion springs wrap around a shaft or rod to maintain pressure on objects as they rotate.
Torsion springs should be used in the direction in which the coils are wound. Left-hand wound springs wind clockwise toward you.Right-hand wound springs wind counterclockwise toward you.
Deflection angle represents the angle between the legs as well as the maximum spring rotation. All springs rotate until their legs are parallel. For example, a spring with a 90° deflection angle will rotate a maximum of 90°. Maximum torque is the torque required to rotate the spring legs to the parallel position.
Rotating a torsion spring tightens the spring around a shaft and increases the spring length. Using a shaft with a larger diameter than the values listed for maximum shaft diameter will interfere with the spring's motion.
For technical drawings and 3-D models, click on a part number.
OD
For Shaft


Dia.

Wire


Dia.

Leg

Lg.

Number
of Coils
Spring

Lg.

@


Max.

Torque

Max.

Torque,




in.-lbs.

Material

Pkg.




Qty.

Pkg.

0.105"
0.065"
0.012"
0.375"
3.25
0.054"
0.05
Music-Wire Steel
6
00000000
00000
0.124"
0.08"
0.014"
0.5"
3.25
0.074"
0.072
Music-Wire Steel
6
00000000
0000
0.16"
0.093"
0.017"
0.5"
3.25
0.081"
0.125
Music-Wire Steel
6
0000000
0000
0.178"
0.109"
0.018"
0.5"
3.25
0.08"
0.15
Music-Wire Steel
6
00000000
0000
0.204"
0.13"
0.023"
0.75"
3.25
0.116"
0.28
Music-Wire Steel
6
00000000
0000
0.234"
0.156"
0.018"
0.75"
2.25
0.058"
0.15
Music-Wire Steel
6
00000000
0000
0.235"
0.14"
0.025"
0.75"
3.25
0.096"
0.402
Music-Wire Steel
6
0000000
0000
0.281"
0.172"
0.03"
1"
3.25
0.116"
0.67
Music-Wire Steel
6
0000000
0000
0.288"
0.172"
0.032"
1"
3.25
0.152"
0.879
Music-Wire Steel
6
0000000
0000
0.309"
0.187"
0.04"
1.25"
4.25
0.198"
1.473
Music-Wire Steel
6
0000000
0000
0.315"
0.187"
0.035"
1.25"
3.25
0.135"
1.071
Music-Wire Steel
6
0000000
0000
0.357"
0.203"
0.045"
1.25"
4.25
0.259"
2.143
Music-Wire Steel
6
0000000
0000
0.373"
0.25"
0.028"
1"
2.25
0.091"
0.55
Music-Wire Steel
6
00000000
0000
0.375"
0.218"
0.048"
1.25"
4.25
0.238"
2.679
Music-Wire Steel
6
0000000
0000
0.386"
0.25"
0.038"
1.25"
3.25
0.17"
1.28
Music-Wire Steel
6
00000000
0000
0.408"
0.234"
0.051"
2"
4.25
0.293"
3.107
Music-Wire Steel
6
0000000
0000
0.453"
0.312"
0.045"
1.25"
3.25
0.203"
2.15
Music-Wire Steel
6
00000000
0000
0.484"
0.296"
0.054"
2"
4.25
0.31"
3.509
Music-Wire Steel
6
0000000
0000
0.499"
0.296"
0.059"
2"
4.25
0.34"
4.5
Music-Wire Steel
6
0000000
0000
0.499"
0.312"
0.059"
2"
4.25
0.32"
4.5
Music-Wire Steel
6
00000000
0000
0.56"
0.343"
0.063"
2"
4.25
0.362"
5.518
Music-Wire Steel
6
0000000
0000
0.637"
0.39"
0.075"
2"
4.25
0.449"
7.9
Music-Wire Steel
6
00000000
0000
0.675"
0.469"
0.063"
2"
3.25
0.268"
5.5
Music-Wire Steel
6
00000000
0000
0.678"
0.406"
0.078"
2"
4.25
0.45"
10.446
Music-Wire Steel
6
0000000
0000
0.748"
0.467"
0.085"
2.5"
4.25
0.455"
12.86
Music-Wire Steel
1
00000000
0000
0.754"
0.531"
0.07"
2"
3.25
0.298"
7.5
Music-Wire Steel
6
00000000
0000
0.776"
0.453"
0.095"
3"
3.25
0.546"
17.14
Music-Wire Steel
1
00000000
0000
0.848"
0.5"
0.105"
3.5"
5.25
0.656"
21
Music-Wire Steel
1
00000000
0000
0.848"
0.5"
0.106"
3.5"
3.25
0.604"
22.47
Music-Wire Steel
1
00000000
0000
0.871"
0.554"
0.095"
3"
4.25
0.509"
17.14
Music-Wire Steel
1
00000000
0000
0.978"
0.594"
0.115"
4"
5.25
0.594"
28
Music-Wire Steel
1
00000000
0000
0.989"
0.591"
0.125"
4"
4.25
0.844"
34.29
Music-Wire Steel
1
00000000
0000
1.102"
0.666"
0.135"
4"
4.25
0.911"
42.86
Music-Wire Steel
1
00000000
0000
1.102"
0.666"
0.135"
4"
6.25
0.978"
40
Music-Wire Steel
1
00000000
0000
1.11"
0.812"
0.095"
3"
3.25
0.404"
17.14
Music-Wire Steel
1
00000000
0000
1.342"
1.031"
0.105"
3.5"
3.25
0.446"
21
Music-Wire Steel
1
00000000
0000
1.372"
1.031"
0.125"
4"
4.25
0.656"
32
Music-Wire Steel
1
00000000
0000
1.45"
1.094"
0.115"
4"
3.25
0.489"
28
Music-Wire Steel
1
00000000
0000
1.492"
1.125"
0.135"
4"
4.25
0.709"
40
Music-Wire Steel
1
00000000
0000
0.105"
0.065"
0.012"
0.375"
3.25
0.054"
0.05
Music-Wire Steel
6
00000000
0000
0.124"
0.08"
0.014"
0.5"
3.25
0.074"
0.072
Music-Wire Steel
6
00000000
0000
0.16"
0.093"
0.017"
0.5"
3.25
0.081"
0.125
Music-Wire Steel
6
0000000
0000
0.178"
0.109"
0.018"
0.5"
3.25
0.08"
0.15
Music-Wire Steel
6
00000000
0000
0.204"
0.13"
0.023"
0.75"
3.25
0.116"
0.28
Music-Wire Steel
6
00000000
0000
0.234"
0.156"
0.018"
0.75"
2.25
0.058"
0.15
Music-Wire Steel
6
00000000
0000
0.235"
0.14"
0.025"
0.75"
3.25
0.096"
0.402
Music-Wire Steel
6
0000000
0000
0.281"
0.172"
0.03"
1"
3.25
0.116"
0.67
Music-Wire Steel
6
0000000
0000
0.288"
0.172"
0.032"
1"
3.25
0.152"
0.879
Music-Wire Steel
6
0000000
0000
0.309"
0.187"
0.04"
1.25"
4.25
0.198"
1.473
Music-Wire Steel
6
0000000
0000
0.315"
0.187"
0.035"
1.25"
3.25
0.135"
1.071
Music-Wire Steel
6
0000000
0000
0.357"
0.203"
0.045"
1.25"
4.25
0.259"
2.143
Music-Wire Steel
6
0000000
0000
0.373"
0.25"
0.028"
1"
2.25
0.091"
0.55
Music-Wire Steel
6
00000000
0000
0.375"
0.218"
0.048"
1.25"
4.25
0.238"
2.679
Music-Wire Steel
6
0000000
0000
0.386"
0.25"
0.038"
1.25"
3.25
0.17"
1.28
Music-Wire Steel
6
00000000
0000
0.408"
0.234"
0.051"
2"
4.25
0.293"
3.107
Music-Wire Steel
6
0000000
0000
0.453"
0.312"
0.045"
1.25"
3.25
0.203"
2.15
Music-Wire Steel
6
00000000
0000
0.484"
0.296"
0.054"
2"
4.25
0.31"
3.509
Music-Wire Steel
6
0000000
0000
0.499"
0.296"
0.059"
2"
4.25
0.34"
4.5
Music-Wire Steel
6
0000000
0000
0.499"
0.312"
0.059"
2"
4.25
0.32"
4.5
Music-Wire Steel
6
00000000
0000
0.56"
0.343"
0.063"
2"
4.25
0.362"
5.518
Music-Wire Steel
6
0000000
0000
0.637"
0.39"
0.075"
2"
4.25
0.449"
7.9
Music-Wire Steel
6
00000000
0000
0.675"
0.469"
0.063"
2"
3.25
0.268"
5.5
Music-Wire Steel
6
00000000
0000
0.678"
0.406"
0.078"
2"
4.25
0.45"
10.446
Music-Wire Steel
6
0000000
0000
0.748"
0.467"
0.085"
2.5"
4.25
0.455"
12.86
Music-Wire Steel
1
00000000
0000
0.754"
0.531"
0.07"
2"
3.25
0.298"
7.5
Music-Wire Steel
6
00000000
0000
0.776"
0.453"
0.095"
3"
3.25
0.546"
17.14
Music-Wire Steel
1
00000000
0000
0.848"
0.5"
0.105"
3.5"
5.25
0.656"
21
Music-Wire Steel
1
00000000
0000
0.848"
0.5"
0.106"
3.5"
3.25
0.604"
22.47
Music-Wire Steel
1
00000000
0000
0.871"
0.554"
0.095"
3"
4.25
0.509"
17.14
Music-Wire Steel
1
00000000
0000
0.978"
0.594"
0.115"
4"
5.25
0.594"
28
Music-Wire Steel
1
00000000
0000
0.989"
0.591"
0.125"
4"
4.25
0.844"
34.29
Music-Wire Steel
1
00000000
0000
1.102"
0.666"
0.135"
4"
4.25
0.911"
42.86
Music-Wire Steel
1
00000000
0000
1.102"
0.666"
0.135"
4"
6.25
0.978"
40
Music-Wire Steel
1
00000000
0000
1.11"
0.812"
0.095"
3"
3.25
0.404"
17.14
Music-Wire Steel
1
00000000
0000
1.342"
1.031"
0.105"
3.5"
3.25
0.446"
21
Music-Wire Steel
1
00000000
0000
1.372"
1.031"
0.125"
4"
4.25
0.656"
32
Music-Wire Steel
1
00000000
0000
1.45"
1.094"
0.115"
4"
3.25
0.489"
28
Music-Wire Steel
1
00000000
0000
1.492"
1.125"
0.135"
4"
4.25
0.709"
40
Music-Wire Steel
1
00000000
0000
0.104"
0.062"
0.012"
0.375"
5.17
0.078"
0.04
Music-Wire Steel
6
00000000
0000
0.16"
0.093"
0.017"
0.5"
5.17
0.111"
0.11
Music-Wire Steel
6
00000000
0000
0.235"
0.14"
0.025"
0.75"
5.17
0.154"
0.33
Music-Wire Steel
6
00000000
0000
0.281"
0.187"
0.03"
1"
5.17
0.196"
0.58
Music-Wire Steel
6
00000000
0000
0.309"
0.187"
0.04"
1.25"
6.17
0.287"
1.43
Music-Wire Steel
6
00000000
0000