Forked Wedges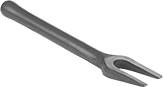 Forked Wedge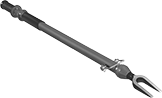 Forked Wedge with Internal Sliding Ram Bar
Like the claw end of a hammer around a nail, these wedges grip studs or rods from both sides to give you leverage for prying apart two joined components. They're often used to separate ball joints and tie rod ends in suspension and steering systems. Also known as pickle forks.
For 11", 12", and 16" long wedges, strike the wide, flat base with a hammer until the forked end pries apart the joint.
The 36 1/2" long wedges have an internal sliding ram bar that eliminates the need for a hammer, making them safer for your hands. The ram bar also hits more forcefully and directly than a hammer. With interchangeable forks, these wedges allow you to choose the appropriate forks to use for the task at hand.
Lg.

Wd.

Thick.

Opening


Wd.

Weight,




lbs.

Each
Each
Each

Steel

11"
1

3/4

"

1/32

"-

7/8

"
1

1/8

"
1

3/4

0000000
000000
000000
00
000000
00
11"
2"

1/32

"-

7/8

"
1

3/8

"
1

7/8

0000000
00000
000000
00
000000
00
12"
1

5/8

"

1/32

"-

7/8

"

3/4

"
1

1/4

0000000
00000
000000
00
000000
00
12"
2"

1/32

"-

7/8

"
1"
1

1/4

0000000
00000
000000
00
000000
00
16"
1

3/8

"

1/32

"-

7/8

"

5/8

"
1

3/4

0000000
00000
000000
00
000000
00
16"
1

5/8

"

1/32

"-

7/8

"

7/8

"
2

7/8

0000000
00000
000000
00
000000
00

Steel with Internal Sliding Ram Bar

36

1/2

"
1

5/8

",2"

1/32

"-

7/8

"

5/8

",

7/8

"
11
0000000
000000
0000000
000000
0000000
000000