Bearing Caps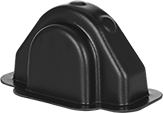 For Bearing
with
Two-Bolt
Flange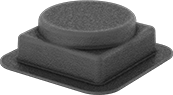 For Bearing
with
Four-Bolt
Flange

Cover standard or flange-mount bearings to protect personnel from injury and keep contaminants out. Place caps over the entire bearing housing and drill holes in their flange to install with screws. If necessary, drill the caps for access to bearing grease fittings or to create space for a shaft to pass through, and trim the flange to fit in tight spaces.
Black ABS caps resist UV light, so they won't color or crack when exposed to the sun.
Yellow ABS caps stand out from darker equipment, reducing the risk that someone could accidentally get caught in bearings.
Lg.

Wd.

Ht.

ID

Max.




Temp.,

°F

Color
Specifications Met
Each

Rigid ABS Plastic

For Standard Bearing

5

5/8

"
1

1/2

"
3

1/16

"
__
200°
Black
__
0000000
000000
5

5/8

"
1

1/2

"
3

1/16

"
__
200°
Yellow
FDA Compliant 21 CFR 181.32
0000000
00000
6

3/8

"
1

5/8

"
3

9/16

"
__
200°
Black
__
0000000
00000
6

3/8

"
1

5/8

"
3

9/16

"
__
200°
Yellow
FDA Compliant 21 CFR 181.32
0000000
00000
6

7/8

"
2"
3

15/16

"
__
200°
Black
__
0000000
00000
6

7/8

"
2"
3

15/16

"
__
200°
Yellow
FDA Compliant 21 CFR 181.32
0000000
000000

For Bearing with

Two-Bolt

Flange Mount

4

11/16

"
2

5/8

"
2

1/8

"
2

9/16

"
200°
Black
__
0000000
00000
5

1/8

"
3"
2

5/16

"
2

15/16

"
200°
Black
__
0000000
00000
5

13/16

"
3

3/8

"
2

7/16

"
3

1/4

"
200°
Black
__
0000000
00000
6

3/8

"
4"
2

5/8

"
3

7/8

"
200°
Black
__
0000000
00000

For Bearing with

Four-Bolt

Flange Mount

3

5/8

"
3

5/8

"
1

13/16

"
3

1/2

"
200°
Black
__
0000000
00000
4"
4"
1

7/8

"
3

7/8

"
200°
Black
__
0000000
00000
4

1/2

"
4

1/2

"
2

1/16

"
4

3/8

"
200°
Black
__
0000000
00000
5"
5"
2

1/4

"
4

7/8

"
200°
Black
__
0000000
00000