High-Accuracy

Pressure-Regulating

Valves for Steam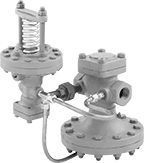 For Use

With:

Steam
Temperature

Range:

40° to 450° F
Control steam line pressure with ±1 psi accuracy. These valves automatically reduce a high, variable inlet pressure to a lower, stable outlet pressure. Adjust the outlet pressure within the range. Valves have a cast iron body that absorbs vibration from pressure changes to reduce wear and noise in your pipeline. They meet ANSI/FCI 70-2 Class IV for tight shut-off (max. leakage rate of 0.01%). Install 1/4 NPT male pipe (not included) between the control valve and your downstream steam line.
Repair kits (sold separately) include replacement seals, diaphragm, spring, and spring assembly.
For technical drawings and 3-D models, click on a part number.
Pipe
Size

Location

Max.




Pressure,


psi
Pipe
Size

Location
Choose an Outlet
Pressure


Range,

psi
Each
Each

NPT Female

Cast Iron

Body—

301 Stainless Steel Diaphragm and 420 Stainless Steel Seal

1/2

Side
250

1/2

Side
0000000
000000000
0000000
0000000

3/4

Side
250

3/4

Side
0000000
00000000
0000000
000000
1

Side
250
1

Side
0000000
00000000
0000000
000000
1

1/4

Side
250
1

1/4

Side
0000000
00000000
0000000
000000
1

1/2

Side
250
1

1/2

Side
0000000
00000000
0000000
000000
2

Side
250
2

Side
0000000
00000000
0000000
00000000