Push/Pull

Captive Panel Screws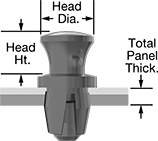 Push the plunger to secure and pull to release for quick access. To install, press the grommet into a hole in the outer panel. Fasteners become a permanent part of the outer panel when installed, so they won't fall out. They meet UL 94 V-2 for flame retardance. Made from plastic, they're chemical resistant and lightweight. Length is measured from under the plunger head.
For technical drawings and 3-D models, click on a part number.
Max.


Outer
Total
Inner
Outer

Dia.

Ht.

Lg.

Plunger
Grommet
Temperature


Range,




°F

Specifications
Met
Color

Pkg.




Qty.

Pkg.

0.042"
0.056" to 0.153"
0.189"
0.18"
0.25"
0.266"

11/32

"
Nylon Plastic
Polycarbonate Plastic
-20° to 185°
UL 94 V-2

Black
10
000000000
000000
0.042"
0.059" to 0.148"
0.25"
0.238"
0.313"
0.28"

3/8

"
Nylon Plastic
Polycarbonate Plastic
-20° to 185°
UL 94 V-2

Black
10
000000000
00000
0.042"
0.059" to 0.148"
0.316"
0.294"
0.375"
0.3"

3/8

"
Nylon Plastic
Polycarbonate Plastic
-20° to 185°
UL 94 V-2

Black
10
000000000
00000
0.065"
0.079" to 0.176"
0.189"
0.18"
0.25"
0.266"

23/64

"
Nylon Plastic
Polycarbonate Plastic
-20° to 185°
UL 94 V-2

Black
10
000000000
00000
0.065"
0.084" to 0.173"
0.25"
0.238"
0.313"
0.28"

25/64

"
Nylon Plastic
Polycarbonate Plastic
-20° to 185°
UL 94 V-2

Black
10
000000000
00000
0.065"
0.084" to 0.173"
0.316"
0.294"
0.375"
0.3"

25/64

"
Nylon Plastic
Polycarbonate Plastic
-20° to 185°
UL 94 V-2

Black
10
000000000
00000
0.098"
0.112" to 0.209"
0.189"
0.18"
0.25"
0.266"

25/64

"
Nylon Plastic
Polycarbonate Plastic
-20° to 185°
UL 94 V-2

Black
10
000000000
00000
0.098"
0.118" to 0.207"
0.25"
0.238"
0.313"
0.28"

7/16

"
Nylon Plastic
Polycarbonate Plastic
-20° to 185°
UL 94 V-2

Black
10
000000000
00000
0.098"
0.118" to 0.207"
0.316"
0.294"
0.375"
0.3"

7/16

"
Nylon Plastic
Polycarbonate Plastic
-20° to 185°
UL 94 V-2

Black
10
000000000
00000
0.138"
0.152" to 0.249"
0.189"
0.18"
0.25"
0.266"

7/16

"
Nylon Plastic
Polycarbonate Plastic
-20° to 185°
UL 94 V-2

Black
10
000000000
00000
0.162"
0.182" to 0.271"
0.25"
0.238"
0.313"
0.28"

1/2

"
Nylon Plastic
Polycarbonate Plastic
-20° to 185°
UL 94 V-2

Black
10
000000000
00000
0.162"
0.182" to 0.271"
0.316"
0.294"
0.375"
0.3"

1/2

"
Nylon Plastic
Polycarbonate Plastic
-20° to 185°
UL 94 V-2

Black
10
000000000
00000