Chemical-Resistant

Connectors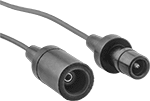 With a PVC housing, connectors withstand exposure to chemicals, oil, fuel, and salt water. Each set includes one plug and one socket. They're often used in construction vehicles and machine tool applications. All come assembled with wire leads already installed so they can be quickly added to existing wiring systems. When mated, connectors meet IP67 for protection against dust and temporary submersion.
For technical drawings and 3-D models, click on a part number.
Number
of Poles
Voltage
Current
Wire Lead
Gauge
Color
Housing
Material

Dia.

Lg.

Temp.




Range,

°F

Each

Plug × Socket

1
400V AC/400V DC
15A
18
Black
PVC Plastic
0.6"
2.3"
-40° to 220°
0000000
000000
Vibration-Resistant

High-Current

Connectors
Make secure connections with machine tools, robots, and other equipment that vibrates frequently and carries currents as high as 300 amps. A wave spring holds these connectors firmly in place when mated, so they won't come loose. They also evenly distribute force to absorb vibration. To install, push them into a compatible connector and lock with a quarter turn. A click confirms they're secured. You can pull these connectors out quickly and easily for maintenance.
IP67 rated when connected, all block out dust and can be briefly submerged under water. Their insulation insert meets UL 94 V-0, so it resists catching fire.
Shielded connectors guard against interference from nearby equipment.
For technical drawings and 3-D models, click on a part number.
Female Crimp-On Sockets—Internal Housing Lock

Front

Back
Number
of
Poles
Shielding
Voltage
Current
For
Wire
Gauge
For
Cable
OD
OD

Lg.

Housing
Material
Temperature


Range,




°F

Connector
Shell
Size
Specifications
Met
Each
1
Shielded
630V AC/630V DC
86A
8
0.37"-0.49"
1"
2.7"
Nickel-Plated Zinc
-40° to 255°
12
UL 94 V-0
0000000
000000
1
Shielded
630V AC/630V DC
120A
4
0.37"-0.49"
1.1"
3.4"
Nickel-Plated Zinc
-40° to 255°
14
UL 94 V-0
0000000
00000
1
Shielded
630V AC/630V DC
130A
2
0.53"-0.59"
1.2"
3.6"
Nickel-Plated Zinc
-40° to 255°
16
UL 94 V-0
0000000
00000
1
Shielded
630V AC/630V DC
180A
1/0
0.64"-0.66"
1.5"
3.5"
Nickel-Plated Zinc
-40° to 255°
20
UL 94 V-0
0000000
000000
Male Panel-Mount Crimp-On Receptacles—External Housing Lock

Front

Back
Number
of
Poles
Voltage
Current
For
Wire
Gauge
For Panel
Cutout


Dia.

Lg.

Wd.

Ht.

Housing
Material
Temperature


Range,




°F

Connector
Shell
Size
Fasteners
Included
Number
of
Holes
Hole


Dia.

Specifications
Met
Each
1
630V AC/630V DC
86A
8
0.81"
1.5"
1"
1"
Nickel-Plated Zinc
-40° to 255°
12
No
4
0.12"
UL 94 V-0
0000000
000000
1
630V AC/630V DC
120A
4
0.9"
1.8"
1.1"
1.1"
Nickel-Plated Zinc
-40° to 255°
14
No
4
0.12"
UL 94 V-0
0000000
00000
1
630V AC/630V DC
130A
2
0.96"
2"
1.2"
1.2"
Nickel-Plated Zinc
-40° to 255°
16
No
4
0.12"
UL 94 V-0
0000000
00000
1
630V AC/630V DC
180A
1/0
1.15"
2.1"
1.4"
1.4"
Nickel-Plated Zinc
-40° to 255°
20
No
4
0.16"
UL 94 V-0
0000000
00000
Male Panel-Mount Solder-Terminal Receptacles—External Housing Lock

Front

Back
Number
of
Poles
Voltage
Current
For
Wire
Gauge
For Panel
Cutout


Dia.

Lg.

Wd.

Ht.

Housing
Material
Temperature


Range,




°F

Connector
Shell
Size
Fasteners
Included
Number
of
Holes
Hole


Dia.

Specifications
Met
Each
1
630V AC/630V DC
86A
8
0.81"
2.2"
1"
1"
Nickel-Plated Zinc
-40° to 255°
12
No
4
0.12"
UL 94 V-0
0000000
000000
1
630V AC/630V DC
120A
4
0.9"
2"
1.1"
1.1"
Nickel-Plated Zinc
-40° to 255°
14
No
4
0.12"
UL 94 V-0
0000000
00000
1
630V AC/630V DC
180A
1/0
0.96"
2.4"
1.2"
1.2"
Nickel-Plated Zinc
-40° to 255°
16
No
4
0.12"
UL 94 V-0
0000000
00000
1
630V AC/630V DC
300A
1/0
1.15"
2.8"
1.4"
1.4"
Nickel-Plated Zinc
-40° to 255°
20
No
4
0.16"
UL 94 V-0
0000000
00000