About
Fire-Fighting

Hose Threads
Lightweight
Fire-Fighting

Hose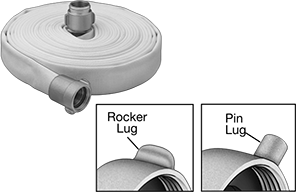 Temperature

Range:

-40° to 180° F

Material:

Polyurethane with Polyester Cover

Color:

White
Female Fitting Swivels Until Tightened
Also known as pin-rack hose, this hose can be folded to fit in a rack. The lugs provide a quick connection to hydrants and washdown equipment. Use a hook-style spanner wrench to tighten them. Fittings that swivel until tightened are easy to install.
Brass fittings are more durable than aluminum fittings. Aluminum fittings are lighter than brass fittings.
Hoses meet NFPA Safety Standards. They are also FM Approved to meet American safety standards.
Lug
Style
ID
OD
Hose
Size

Max.


Pressure
Specifications
Met
Each

Brass Threaded NPSH Male × Brass Threaded NPSH Female

Pin × Pin
1

1/2

"
1

11/16

"
1

1/2

× 1

1/2

225 psi @ 72° F
FM Approved, NFPA Safety Standards
00000000
0000000
Pin × Pin
2

1/2

"
2

13/16

"
2

1/2

× 2

1/2

225 psi @ 72° F
FM Approved, NFPA Safety Standards
00000000
000000
Rocker × Rocker
2

1/2

"
2

13/16

"
2

1/2

× 2

1/2

225 psi @ 72° F
FM Approved, NFPA Safety Standards
00000000
000000
Pin/Rocker × Pin/Rocker
1

1/2

"
1

11/16

"
1

1/2

× 1

1/2

225 psi @ 72° F
FM Approved, NFPA Safety Standards
00000000
000000

Brass Threaded

NH/NST

Male × Brass Threaded

NH/NST

Female

Pin × Pin
1

1/2

"
1

11/16

"
1

1/2

× 1

1/2

225 psi @ 72° F
FM Approved, NFPA Safety Standards
00000000
000000
Pin × Pin
2

1/2

"
2

13/16

"
2

1/2

× 2

1/2

225 psi @ 72° F
FM Approved, NFPA Safety Standards
00000000
000000
Rocker × Rocker
2

1/2

"
2

13/16

"
2

1/2

× 2

1/2

225 psi @ 72° F
FM Approved, NFPA Safety Standards
00000000
000000
Pin/Rocker × Pin/Rocker
1

1/2

"
1

11/16

"
1

1/2

× 1

1/2

225 psi @ 72° F
FM Approved, NFPA Safety Standards
00000000
000000

Aluminum Threaded NPSH Male × Aluminum Threaded NPSH Female

Rocker × Rocker
1

1/2

"
1

11/16

"
1

1/2

× 1

1/2

225 psi @ 72° F
FM Approved, NFPA Safety Standards
00000000
000000

Aluminum Threaded

NH/NST

Male × Aluminum Threaded

NH/NST

Female

Rocker × Rocker
1

1/2

"
1

11/16

"
1

1/2

× 1

1/2

225 psi @ 72° F
FM Approved, NFPA Safety Standards
00000000
000000

Brass Threaded NPSH Male × Brass Threaded NPSH Female

Pin × Pin
1

1/2

"
1

11/16

"
1

1/2

× 1

1/2

225 psi @ 72° F
FM Approved, NFPA Safety Standards
00000000
000000
Pin × Pin
2

1/2

"
2

13/16

"
2

1/2

× 2

1/2

225 psi @ 72° F
FM Approved, NFPA Safety Standards
00000000
000000
Rocker × Rocker
2

1/2

"
2

13/16

"
2

1/2

× 2

1/2

225 psi @ 72° F
FM Approved, NFPA Safety Standards
00000000
000000
Pin/Rocker × Pin/Rocker
1

1/2

"
1

11/16

"
1

1/2

× 1

1/2

225 psi @ 72° F
FM Approved, NFPA Safety Standards
00000000
000000

Brass Threaded

NH/NST

Male × Brass Threaded

NH/NST

Female

Pin × Pin
1

1/2

"
1

11/16

"
1

1/2

× 1

1/2

225 psi @ 72° F
FM Approved, NFPA Safety Standards
00000000
000000
Pin × Pin
2

1/2

"
2

13/16

"
2

1/2

× 2

1/2

225 psi @ 72° F
FM Approved, NFPA Safety Standards
00000000
000000
Rocker × Rocker
2

1/2

"
2

13/16

"
2

1/2

× 2

1/2

225 psi @ 72° F
FM Approved, NFPA Safety Standards
00000000
000000
Pin/Rocker × Pin/Rocker
1

1/2

"
1

11/16

"
1

1/2

× 1

1/2

225 psi @ 72° F
FM Approved, NFPA Safety Standards
00000000
000000

Aluminum Threaded NPSH Male × Aluminum Threaded NPSH Female

Rocker × Rocker
1

1/2

"
1

11/16

"
1

1/2

× 1

1/2

225 psi @ 72° F
FM Approved, NFPA Safety Standards
00000000
000000

Aluminum Threaded

NH/NST

Male × Aluminum Threaded

NH/NST

Female

Rocker × Rocker
1

1/2

"
1

11/16

"
1

1/2

× 1

1/2

225 psi @ 72° F
FM Approved, NFPA Safety Standards
00000000
000000

Brass Threaded NPSH Male × Brass Threaded NPSH Female

Pin × Pin
1

1/2

"
1

11/16

"
1

1/2

× 1

1/2

225 psi @ 72° F
FM Approved, NFPA Safety Standards
00000000
000000
Pin × Pin
2

1/2

"
2

13/16

"
2

1/2

× 2

1/2

225 psi @ 72° F
FM Approved, NFPA Safety Standards
00000000
000000
Rocker × Rocker
2

1/2

"
2

13/16

"
2

1/2

× 2

1/2

225 psi @ 72° F
FM Approved, NFPA Safety Standards
00000000
000000
Pin/Rocker × Pin/Rocker
1

1/2

"
1

11/16

"
1

1/2

× 1

1/2

225 psi @ 72° F
FM Approved, NFPA Safety Standards
00000000
000000

Brass Threaded

NH/NST

Male × Brass Threaded

NH/NST

Female

Pin × Pin
1

1/2

"
1

11/16

"
1

1/2

× 1

1/2

225 psi @ 72° F
FM Approved, NFPA Safety Standards
00000000
000000
Pin × Pin
2

1/2

"
2

13/16

"
2

1/2

× 2

1/2

225 psi @ 72° F
FM Approved, NFPA Safety Standards
00000000
000000
Rocker × Rocker
2

1/2

"
2

13/16

"
2

1/2

× 2

1/2

225 psi @ 72° F
FM Approved, NFPA Safety Standards
00000000
000000
Pin/Rocker × Pin/Rocker
1

1/2

"
1

11/16

"
1

1/2

× 1

1/2

225 psi @ 72° F
FM Approved, NFPA Safety Standards
00000000
000000

Aluminum Threaded NPSH Male × Aluminum Threaded NPSH Female

Rocker × Rocker
1

1/2

"
1

11/16

"
1

1/2

× 1

1/2

225 psi @ 72° F
FM Approved, NFPA Safety Standards
00000000
000000

Aluminum Threaded

NH/NST

Male × Aluminum Threaded

NH/NST

Female

Rocker × Rocker
1

1/2

"
1

11/16

"
1

1/2

× 1

1/2

225 psi @ 72° F
FM Approved, NFPA Safety Standards
00000000
000000