Stackable
Pin-to-Pin

Connectors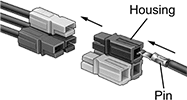 Stack housings and lock them together to form a connector with as many poles as you need. Connectors have a slotted dovetail on each side—align the slots and slide the housings together to lock. An internal stainless steel spring ensures that the pins maintain constant pressure. Current rating is based on a single-pole configuration using the largest wire shown within each range. Also known as power-pole connectors.
Enclosures (sold separately) hold four connectors.
For technical drawings and 3-D models, click on a part number.

Current
Voltage

No.


of
Poles
Wire
Connection
Type
For
Wire
Gauge

Lg.

Wd.

Ht.

Temp.




Range,




°F

Choose
a
Color

Pkg.




Qty.

Pkg.

Pkg.




Qty.

Pkg.

15A
600V AC/600V DC
1
Crimp On
20-16
1.6"
0.3"
0.3"
0° to 220°
5
0000000
00000
5
000000
00000
30A
600V AC/600V DC
1
Crimp On
16-12
1.6"
0.3"
0.3"
0° to 220°
5
000000
0000
5
000000
0000
45A
600V AC/600V DC
1
Crimp On
14-10
1.6"
0.3"
0.3"
0° to 220°
5
000000
0000
5
000000
0000
75A
600V AC/600V DC
1
Crimp On
6
3.2"
0.6"
0.6"
0° to 220°
1
000000
0000
1
000000
0000
120A
600V AC/600V DC
1
Crimp On
2
4.6"
0.9"
0.9"
0° to 220°
1
000000
00000
1
000000
0000
180A
600V AC/600V DC
1
Crimp On
1/0
5.5"
1.1"
1.1"
0° to 220°
1
000000
00000
1
000000
00000
Enclosures for 15-, 30-, and 45-Amp Connectors

For

No.

of
Connectors
Housing Material

Lg.

Wd.

Ht.

Temp.




Range,

°F

Color
Each
4
Polycarbonate Plastic
1.9"
1.2"
0.9"
0° to 220°
Black
0000000
00000

Current
Voltage
For Wire
Gauge
Pin Material

Pkg.




Qty.

Pkg.

15A
600V AC/600V DC
20-16
Silver-Plated Copper
5
0000000
00000
30A
600V AC/600V DC
16-12
Silver-Plated Copper
5
0000000
0000
45A
600V AC/600V DC
14-10
Tin-Plated Copper
5
0000000
0000
75A
600V AC/600V DC
6
Silver-Plated Copper
1
0000000
0000
120A
600V AC/600V DC
2
Silver-Plated Copper
1
0000000
0000
180A
600V AC/600V DC
1/0
Silver-Plated Copper
1
0000000
0000