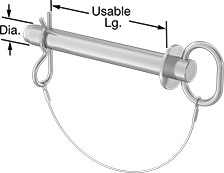 With Hairpin Cotter Pin and Lanyard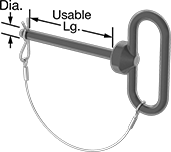 With Red
Handle,
Hairpin Cotter
Pin,
and Lanyard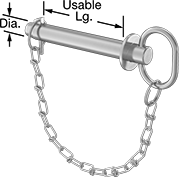 With Locking Ring and Chain
A large loop handle makes these pins easy to grip. Pins come with a lanyard and hairpin cotter pin or chain and locking ring for quick installation and removal. The lanyard or chain keeps the pin from getting lost when disassembled.
Steel pins offer good strength. Pins with a zinc yellow-chromate plated finish have some corrosion resistance.
17-4 PH stainless steel pins are strong, magnetic, and resist corrosion.
For technical drawings and 3-D models, click on a part number.
Dia.

Usable


Lg.

Dia.

Tolerance
For

Max.


Cotter Pin

Dia.

Min.

Hardness
Each

With Hairpin Cotter Pin and Lanyard

Zinc-Plated

1144 Carbon Steel

1/2

"
3

1/2

"
-0.016" to 0.016"

5/32

"
Rockwell C19
000000000
000000

1/2

"
5"
-0.016" to 0.016"

5/32

"
Rockwell C19
000000000
00000

5/8

"
4

1/2

"
-0.016" to 0.016"

3/16

"
Rockwell C19
000000000
00000

5/8

"
6"
-0.016" to 0.016"

3/16

"
Rockwell C19
000000000
00000

3/4

"
4

1/2

"
-0.016" to 0.016"

3/16

"
Rockwell C19
000000000
00000

3/4

"
6"
-0.016" to 0.016"

3/16

"
Rockwell C19
000000000
00000

7/8

"
4

1/2

"
-0.016" to 0.016"

3/16

"
Rockwell C19
000000000
00000

7/8

"
6"
-0.016" to 0.016"

3/16

"
Rockwell C19
000000000
00000
1"
4

1/2

"
-0.016" to 0.016"

3/16

"
Rockwell C19
000000000
00000
1"
6"
-0.016" to 0.016"

3/16

"
Rockwell C19
000000000
00000
1

1/8

"
7"
-0.016" to 0.016"

3/16

"
Rockwell C19
000000000
00000
1

1/4

"
7"
-0.016" to 0.016"

3/16

"
Rockwell C19
000000000
00000

Zinc

Yellow-Chromate-Plated

1144 Carbon Steel

1

1/8

"
7"
-0.016" to 0.016"

3/16

"
Rockwell C19
000000000
00000
1

1/4

"
7"
-0.016" to 0.016"

3/16

"
Rockwell C19
000000000
00000

Zinc-Plated

1215 Carbon Steel

3/8

"
3"
-0.016" to 0.016"

7/64

"
Rockwell B80
000000000
00000

3/8

"
4"
-0.016" to 0.016"

7/64

"
Rockwell B80
000000000
00000

Zinc

Yellow-Chromate-Plated

1541 Carbon Steel

3/8

"
4"
-0.010" to 0.000"

3/32

"
Rockwell C25
000000000
0000

1/2

"
4"
-0.010" to 0.000"

1/8

"
Rockwell C25
000000000
0000

1/2

"
5

3/4

"
-0.010" to 0.000"

1/8

"
Rockwell C25
000000000
0000

5/8

"
4"
-0.010" to 0.000"

9/64

"
Rockwell C25
000000000
0000

5/8

"
6"
-0.010" to 0.000"

9/64

"
Rockwell C25
000000000
00000

3/4

"
4

1/4

"
-0.010" to 0.000"

9/64

"
Rockwell C25
000000000
00000

3/4

"
6

1/4

"
-0.010" to 0.000"

9/64

"
Rockwell C25
000000000
00000

7/8

"
7"
-0.012" to 0.000"

11/64

"
Rockwell C28
000000000
00000
1"
7"
-0.010" to 0.000"

11/64

"
Rockwell C25
000000000
00000

5/8

"
4

1/2

"
-0.016" to 0.016"

3/16

"
Rockwell B80
000000000
00000

5/8

"
6"
-0.016" to 0.016"

3/16

"
Rockwell B80
000000000
00000

3/4

"
4

1/2

"
-0.016" to 0.016"

3/16

"
Rockwell B80
000000000
00000

3/4

"
6"
-0.016" to 0.016"

3/16

"
Rockwell B80
000000000
00000

7/8

"
6"
-0.016" to 0.016"

3/16

"
Rockwell B80
000000000
00000
1"
6"
-0.016" to 0.016"

3/16

"
Rockwell B80
000000000
00000
1

1/8

"
7"
-0.016" to 0.016"

3/16

"
Rockwell B80
000000000
00000
1

1/4

"
7"
-0.016" to 0.016"

3/16

"
Rockwell B80
000000000
00000

With Red

Handle,

Hairpin Cotter

Pin,

and Lanyard

Black-Painted

1004-1045

Carbon Steel

3/8

"
4"
-0.003" to 0.002"

9/64

"
Rockwell C32
000000000
0000

1/2

"
3

5/8

"
-0.003" to 0.002"

5/32

"
Rockwell C32
000000000
0000

5/8

"
4"
-0.003" to 0.002"

17/64

"
Rockwell C32
000000000
00000

5/8

"
5

1/2

"
-0.003" to 0.002"

17/64

"
Rockwell C32
000000000
00000

3/4

"
4"
-0.003" to 0.002"

17/64

"
Rockwell C32
000000000
00000

3/4

"
6

1/2

"
-0.003" to 0.002"

17/64

"
Rockwell C32
000000000
00000

7/8

"
4"
-0.003" to 0.002"

17/64

"
Rockwell C32
000000000
00000

7/8

"
6

1/2

"
-0.003" to 0.002"

17/64

"
Rockwell C32
000000000
00000
1"
4

1/2

"
-0.003" to 0.002"

17/64

"
Rockwell C32
000000000
00000
1"
7

1/2

"
-0.003" to 0.002"

17/64

"
Rockwell C32
000000000
00000
1"
12"
-0.003" to 0.002"

11/64

"
Rockwell C32
000000000
00000
1

1/8

"
8

1/2

"
-0.003" to 0.002"

17/64

"
Rockwell C32
000000000
00000
1

1/8

"
12"
-0.003" to 0.002"

11/64

"
Rockwell C32
000000000
00000
1

1/4

"
8

1/2

"
-0.003" to 0.002"

17/64

"
Rockwell C32
000000000
00000
1

1/4

"
12"
-0.003" to 0.002"

11/64

"
Rockwell C32
000000000
00000
1

1/2

"
8

1/2

"
-0.003" to 0.002"

19/64

"
Rockwell C32
000000000
00000
1

1/2

"
13"
-0.003" to 0.002"

1/4

"
Rockwell C32
000000000
00000
1

3/4

"
8

1/2

"
-0.003" to 0.002"

1/4

"
Rockwell C32
000000000
00000
1

3/4

"
13"
-0.003" to 0.002"

1/4

"
Rockwell C33
000000000
000000
2"
8

1/2

"
-0.003" to 0.002"

1/4

"
Rockwell C32
000000000
00000
2"
13"
-0.003" to 0.002"

1/4

"
Rockwell C33
000000000
000000

Zinc-Plated

1144 Carbon Steel

1/2

"
4"
-0.016" to 0.016"

5/32

"
Rockwell C19
000000000
00000

5/8

"
4

1/2

"
-0.016" to 0.016"

3/16

"
Rockwell C19
000000000
00000

5/8

"
6"
-0.016" to 0.016"

3/16

"
Rockwell C19
000000000
00000

3/4

"
4

1/2

"
-0.016" to 0.016"

3/16

"
Rockwell C19
000000000
00000

3/4

"
6

1/2

"
-0.016" to 0.016"

3/16

"
Rockwell C19
000000000
00000

7/8

"
4

1/2

"
-0.016" to 0.016"

3/16

"
Rockwell C19
000000000
00000
1"
4

1/2

"
-0.016" to 0.016"

3/16

"
Rockwell C19
000000000
00000
1"
6"
-0.016" to 0.016"

3/16

"
Rockwell C19
000000000
00000

With Locking Ring and Chain

Zinc

Yellow-Chromate-Plated

1541 Carbon Steel

3/8

"
4"
-0.012" to 0.000"

13/64

"
Rockwell C28
000000000
0000

1/2

"
4"
-0.012" to 0.000"

13/64

"
Rockwell C28
000000000
00000

1/2

"
5

3/4

"
-0.012" to 0.000"

13/64

"
Rockwell C28
000000000
00000

5/8

"
4"
-0.012" to 0.000"

17/64

"
Rockwell C28
000000000
00000

5/8

"
5

3/4

"
-0.012" to 0.000"

13/64

"
Rockwell C28
000000000
00000

3/4

"
4"
-0.012" to 0.000"

17/64

"
Rockwell C28
000000000
00000

3/4

"
6

1/4

"
-0.012" to 0.000"

13/64

"
Rockwell C28
000000000
00000

7/8

"
7"
-0.012" to 0.000"

25/64

"
Rockwell C28
000000000
00000
1"
7"
-0.012" to 0.000"

9/32

"
Rockwell C28
000000000
00000
1

1/8

"
7"
-0.012" to 0.000"

9/32

"
Rockwell C28
000000000
00000
1

1/4

"
7"
-0.012" to 0.000"

9/32

"
Rockwell C28
000000000
00000

5/8

"
4

1/2

"
-0.016" to 0.016"

3/16

"
Rockwell B80
000000000
00000

5/8

"
6"
-0.016" to 0.016"

3/16

"
Rockwell B80
000000000
00000

3/4

"
4

1/2

"
-0.016" to 0.016"

3/16

"
Rockwell B80
000000000
00000