Sanitary
Twist-to-Lock

Knob-Style

Retractable Spring Plungers

Without Sealing Nut

With Sealing Nut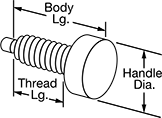 Replacement Sealing Ring
Quickly align, join, or hold machine components in place in food, pharmaceutical, and other sanitary environments. Pulling the plunger knob and twisting it 90° will lock the nose into its retracted position. All of these plungers have a long nose that offers a large bearing surface to handle side loads. They're often used for maintenance jobs.
Made of stainless steel, these plungers won't corrode from frequent washdowns with harsh cleaners and sanitizers. All are self-draining with rounded edges and polished surfaces, so there are no crevices for bacteria to grow, reducing the chance of a foodborne illness. Seals block out water and keep contaminants from getting trapped in threads or grooves. They're also bright blue, so you can easily spot broken pieces that fall into your line. The seals are FDA compliant for direct contact with food, but the lubricant is rated for incidental contact.
Spring plungers with a sealing nut can be held in place with the nut after threading them to your desired depth. The nut completely covers the threads and has two seals to block out water and other contaminants.
Extended nose force is the force required to begin to depress the nose. Compressed nose force is the force required to depress the nose flush with the body. When using a plunger as a detent or stop, a lighter nose force with a shallower hole releases more easily, while a heavier force with a deeper hole holds more securely.
For technical drawings and 3-D models, click on a part number.
Size

Pitch,


mm

Lg.,


mm
Extended


Lg.,


mm

Dia.,


mm
Extended
Compressed

Dia.,


mm
Texture
Includes
Locking
Type
Body


Lg.,


mm
Each

316 Stainless Steel Body and 316 Stainless Steel Nose

M12

1.5
12
6
6
4.5
8.1
35
Smooth
__
Without Thread Locker
62
000000000
0000000
M14

1.5
12
6
6
4.5
8.1
35
Smooth
Sealing Nut
Without Thread Locker
72
000000000
000000
M14

1.5
12
8
8
5
7.2
35
Smooth
Sealing Nut
Without Thread Locker
77
000000000
000000
M16

1.5
12
8
8
5
7.2
35
Smooth
__
Without Thread Locker
66
000000000
000000