Plastic Pipe Insulation Jacketing
Protect insulation from light impact and moisture with this durable PVC jacketing. When selecting size, use the OD of the insulation you are jacketing. Seal with sealant or tape (not included).
Metal Pipe Insulation Jacketing

Tube

Elbow


Stucco Embossed
Sheet/Strip

Guard insulation from heavy impact and chemical exposure. This metal jacketing is corrosion resistant and often used outdoors. Install with banding (not included).
Stainless steel jacketing is suitable for washdown applications.
Tubes are coated in a film that creates a moisture barrier.
Smooth sheets are easy to clean.
Stucco-embossed sheets conceal dents and scratches.
Corrugated sheets are extra strong.
Pipe
Condensation-Reducing

Coatings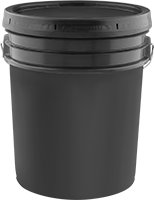 Prevent condensation from forming on refrigeration and air conditioning lines and cold-water piping. All coatings adhere to metal.
Mastic coatings adhere to PVC and CPVC in addition to metal.
Import regulations restrict sales to the listed jurisdictions/areas.
Pipe Insulation Coatings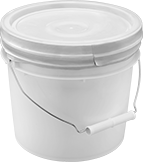 An alternative to jacketing, these coatings create a vapor barrier and protect from conditions outdoors. They are often used on irregularly shaped surfaces, such as fittings, flanges, and valves.
Pipe
Condensation-Reducing

Rubber Strips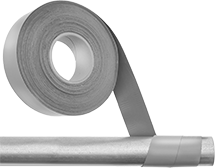 Wrap pipes, tubing, and fittings to prevent condensation from forming. These strips are for use on copper, iron, and steel.
Rubber strips are bacteria and UV resistant to protect pipe from corrosion above and below ground.
Vinyl foam strips restrict absorption of water, air, and gas. These strips have a foil covering.
Thick.

Wd.

Lg.,




ft.

Temperature


Range,

°F

Flexibility
Backing
Type
Color
Each

Rubber

1/32

"
2"
75
-20° to 140°
Flexible
Adhesive
Gray
0000000
000000

1/32

"
4"
75
-20° to 140°
Flexible
Adhesive
Gray
0000000
000000

1/32

"
6"
75
-20° to 140°
Flexible
Adhesive
Gray
0000000
000000

Vinyl Foam

1/8

"
2"
30
-40° to 180°
Flexible
Adhesive
Silver
0000000
00000

Butyl Rubber

1/8

"
2"
30
-30° to 175°
Flexible
Adhesive
Off-White
000000
00000

1/8

"
2"
30
20° to 190°
Flexible
Adhesive
Black
00000000
00000
Pipe Insulation Repair Strips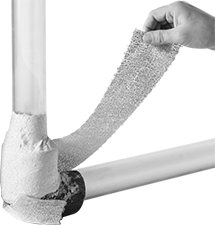 Max.

Temperature:

900° F

Density:

See table

Color:

White
Specifications

Met:

ASTM E84
Protect and repair insulation with this cotton fiber and resin mesh. For small sections, dip the strip in warm water for five seconds then install. For large sections, apply dry to piping and spray with water. Strips harden in 10 minutes. Once hardened, they can be painted.