Press-Connect

Fittings for Copper Tubing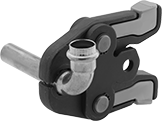 For Use

With:

Drinking Water
Maximum

Pressure:

200psi @

72° F

Temperature

Range:

0° to 250° F

Tubing:

Use with

K,

M,

L copper
Specifications

Met:

See table
Crimp these fittings to copper tubing with a crimping tool (sold separately). An O-ring on the inside of the fitting creates a leak-tight connection that doesn't require heat or soldering. They are comparable to Viega ProPress fittings. Fittings have good corrosion resistance. They meet NSF/ANSI safety standards for use with drinking water systems.
Crossover connectors route your line around existing pipe, tubing, or obstructions. By using one crossover instead of multiple elbows, you reduce the number of possible leak points in your line.
Copper tube size is the accepted designation of the copper tubing industry, not the actual tube OD.
For technical drawings and 3-D models, click on a part number.