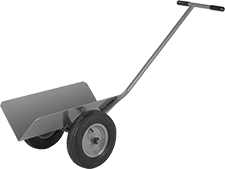 The combination of an offset handle and a V-shaped cradle make moving large, long items a one-person job. Their pneumatic rubber wheels provide a cushioned ride over the roughest surfaces, such as gravel.
Overall


Cap.,




lbs.

Lg.,




ft.

Dia.

Wd.

Ht.

Color

Thick.

Handle


Lg.

Wheel
Configuration

Dia.

Material
Type
Features
Assembled
or
Unassembled
Each

Steel

1,000
20
20"
12"
30"
Gray

3/16

"
36"
Two Axle-Mounted Wheels
16"
Rubber
Pneumatic
Vinyl Handle Grips
Assembled
0000000
0000000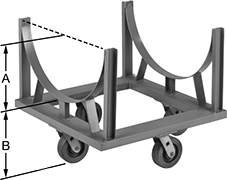 1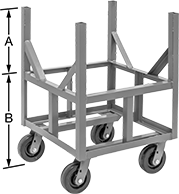 2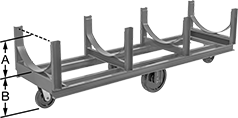 3
Gravity keeps long loads centered and balanced—great for pipe, bar stock, and channel. The open design allows easy loading and unloading with forklifts and slings.
Style 1 have casters mounted in a diamond pattern for better maneuverability and quick turns.
Style 2 have a higher cradle height for less bending during loading and unloading.
Style 3 moves and stores the heaviest loads. They have a swivel caster on each end and two axle-mounted wheels in the center for better maneuverability and rolling over obstructions.
Phenolic wheels are nonmarking and roll best on smooth surfaces. Steel wheels are rugged and can damage floors. They roll best on smooth surfaces.
Style
Overall


Cap.,




lbs.

Lg.

Wd.

Ht.

No.


of
Cradles

Wd.

Ht.




(A)

Ht.




(B)

Color
Wheel
Configuration
Caster
Mount
Type

Dia.

Material
Type
Assembled
or
Unassembled
Each

Steel

1
3,000
29"
29"
25"
2
26"
13

1/2

"
12

3/4

"
Gray
Four Swivel Casters
Permanent
6"
Phenolic Plastic
Solid
Assembled
000000
0000000
1
4,000
60"
28"
27

1/2

"
3
26"
13

1/2

"
12

3/4

"
Gray
Two Swivel and Two Rigid Casters
Permanent
8"
Steel
Solid
Assembled
0000000
000000
2
3,000
24"
24"
34"
2
21"
14"
20"
Gray
Four Swivel Casters
Permanent
6"
Phenolic Plastic
Solid
Assembled
0000000
000000
3
10,000
96"
28"
29"
4
24"
13"
16"
Gray
Two Swivel Casters and Two Axle-Mounted Wheels
Replaceable
8"/12"
Phenolic Plastic
Solid
Assembled
000000
00000000