How to

Identify and Measure Fittings
Pipe size is an industry designation, not the actual size. View information about how to measure threaded and unthreaded pipe and pipe fittings.
Vibration-Resistant

Compression
Fittings for Stainless Steel Tubing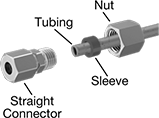 For Use

With:

Acetylene,

Air,

Butane,

Compressed

Air,

Cutting

Oil,

Diesel

Fuel,

Fuel

Oil,

Gasoline,

Helium,

Hydraulic Fluid

(Petroleum

Base),

Kerosene,

Mineral

Oil,

Natural

Gas,

Nitrogen,

Propane,

Soap Solutions
Temperature

Range:

-10° to 400° F

Tubing:

Use with seamless 316Ti or 321 stainless steel
Specifications

Met:

DIN 3861
Instead of a metal sleeve (ferrule), these fittings have a rubber sleeve that cushions tubing and absorbs vibration to maintain a tight seal, even when connected to large pumps. However, rubber sleeves can't withstand temperatures as high as metal ones. To create the strong seal, tighten the included nut. These fittings are made of 316 stainless steel, so they have excellent corrosion resistance. They're also known as flareless fittings. All meet DIN 3861, which is an international standard for compression tube fitting specifications.
BSPP and metric male threads have a gasket to prevent leaks.
For technical drawings and 3-D models, click on a part number.
Couplers for
High-Pressure

Fill Valves
Fill tanks and recharge struts—these couplers join hose to high-pressure fill valves with Schrader threads.
Some couplers meet SAE AS4395, an automotive industry standard for flared fitting dimensions.
70° elbow couplers are angled to access hard-to-reach valves.
Couplers with a shut-off valve let you control the flow of air by hand. When used with Schrader valves that have a core, the core depressor pin in these couplers press valves open to let air flow in.
For technical drawings and 3-D models, click on a part number.
Schrader Female Threaded Hose × NPT Threaded Pipe

70° Elbow,
Schrader
Female Threaded
Hose ×
NPT Female Threaded Pipe

90° Elbow,
Schrader Female
Threaded
Hose ×
NPT
Threaded Male Pipe
Schrader Female Threaded Hose × UN/UNF Male Flared Tube

Straight,
Schrader
Female Threaded
Hose ×
UN/UNF
Male Flared Tube

70° Elbow,
Schrader
Female Threaded
Hose ×
UN/UNF
Male Flared Tube

90° Elbow,
Schrader
Female Threaded
Hose ×
UN/UNF
Male Flared Tube
Thread
Size
Material
Thread
Size
Material
Flared
Angle
For
Tube
OD
Material

Max.




Pressure,


psi

Temp.




Range,




°F

Features
Specifications
Met
Each

Straight

0.305"-32
Brass

7/16

"-20

Zinc-Plated Steel
37°

1/4

"
__
5,000
-20° to 250°
__
SAE AS4395
000000
000000
0.305"-32
__

7/16

"-20

__
37°

1/4

"
Brass
5,000
Not Rated
__
__
000000
00000

90°

Elbow with a

Shut-Off

Valve

0.305"-32
__

3/8

"-24

__
37°

3/16

"
Brass
3,000
-40° to 160°
Core Depressor Pin
SAE AS4395
000000
00000
0.485"-26
__

3/8

"-24

__
37°

3/16

"
Brass
3,000
-40° to 160°
Core Depressor Pin
__
000000
00000